By Connie Marianacci
If there is one thing I miss about Venezuela it is the Arepas! Arepas for breakfast, arepas for lunch and arepas for dinner.
They are very simple to make and great!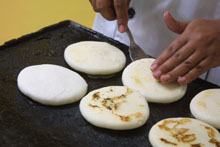 Ingredients
1 cup of precooked corn flour masarepa/masarica/masaharina(precooked fine granulated white or yellow cornmeal found at ethnic section of supermarket or ethnic grocers)
2 cups of water
1 half teaspoon of salt
1 half teaspoon of butter
Preparation
Add the salt to the water
Then add the flour little by little and knead until it turns to a dough. Add the half teaspoon of butter.
Start making small balls of dough about 4 inches wide and flatten them until they get about half an inch thick.
To cook you can either put them in the oven or toast them. Serve them warm.
My favorite is to cut them in the middle and put cheese so it melts! You can also put ham and cheese, butter, meat and anything else you want.