Mexico is a country that is filled with different cultures and traditions. From food to traditional dress and festivals, there are many different flavors and colors to experience throughout the country. And the music you can find there is no exception.
Of course, most of the modern popular music in Mexico is what you might expect… the same sorts of contemporary pop music found throughout the rest of the world. The pop streaming in Mexico comes from all over the world (and in particular the U.S. and the rest of Latin America) but some of the big, internationally recognized Mexican pop stars, most celebrated in their native country and in the rest of the world include Thalía, Paulina Rubio, Maná and Luis Miguel. And although pop is what you may hear popularly in restaurants, stores or on the bus, people in Mexico, just like people everywhere else in the world of course, listen to all different kinds of music.
That being said, each region in Mexico does have its own particular musical past and present. So, take a look at some of the most popular travel destinations in Mexico, the traditional music that comes from those regions and the kinds of music you might hear there today:
Playa del Carmen: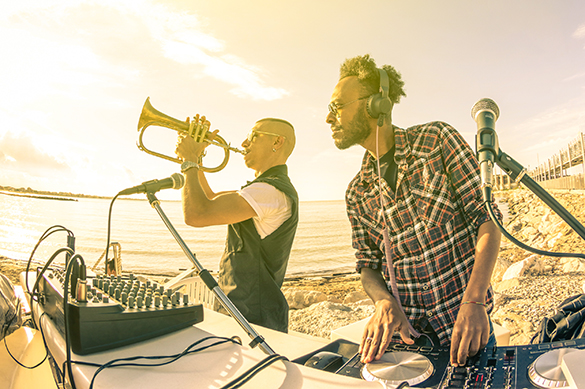 Playa del Carmen is famous for lovely beaches and an exciting nightlife, and is found in the state of Yucatan, in the south east of Mexico. The Yucatan has an interesting musical history with influences from Cuba (the bolero) and Colombia (the bambuco). But the region is most well known for the famous "Trova Yucateca." The trova became popular in the late 19th century and mixes Caribbean rhythms, sweet sounding guitar and poetic vocals to create lovely duets and a true folk tradition from the region.
Of course, if you go to Playa del Carmen today, you might not find as many places to listen to a trova. Now, Playa is known for its many live music venues and for the possibility of seeing almost any kind of music you want right up close and personal. From rock to electronic, to traditional, to punk, to indie, to everything in between, and with venues on the beach to the city center and beyond, there is an eclectic mix of almost every type of music imaginable playing live almost any night of the week in Playa del Carmen.
Oaxaca: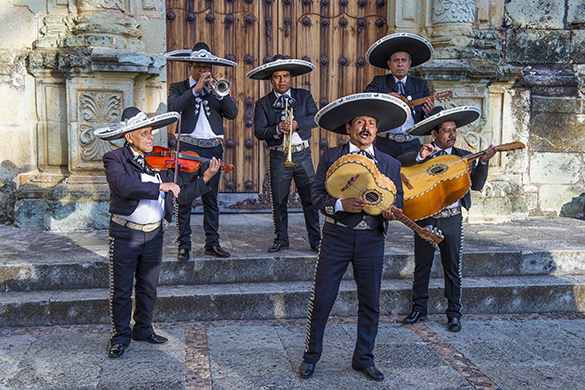 Because of the mix of many cultures in Oaxaca, traditional music from the area is filled with diverse influences and different sounds. While a huge percentage of Oaxacans are indigenous, Spanish and African cultures have also been very influential in the region throughout history. The danzón, a style of music that began in Cuba, and which integrates influences from Spanish, British and African beats and rhythms, became very popular in Oaxaca and is still commonly played in plazas for dancing. Oaxaca is also known for its variation of the Son, the Son Istmeño, sung in both Zapotec (an indigenous language from the region) and Spanish, with both indigenous and Spanish rhythms. The area is also known for the marimba along with its famous brass bands beginning with German immigrants and later developing their own distinct Oaxacan flavor.
Modern day Oaxaca is still teaming with musicians and buzzing with music. You'll hear street musicians wherever you go – mariachi bands might play in the city's main square (the Zocolo) blowing trumpets and strumming guitars, or you may hear accordions, mandolins, and more guitars as you wander through the city's old town. If you're looking for some live music, you will find excellent venues with everything from jazz to rock n' roll, to salsa to the famous and traditional brass bands Tambora Oaxaqueña throughout the city.
Guanajuato: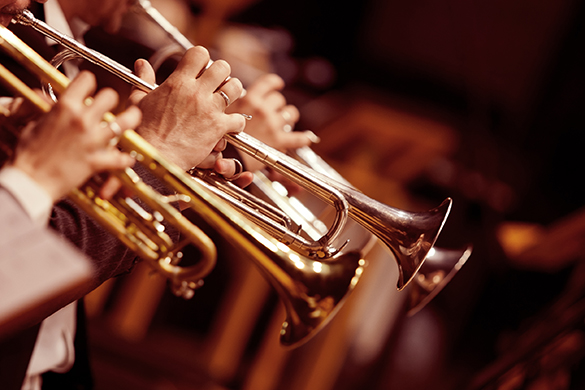 Traditionally, Guanajuato is known for wind bands. Brass instruments like trumpets, trombones and tubas along with woodwinds like clarinets and saxophones, and percussion instruments come together to create this kind of music. Wind bands in Guanajuato play a diverse range of music including popular folk music, sones and danzones.
Today in Guanajuato, you can see an interesting mix of traditional and contemporary music. The city is particularly famous for its callejoneadas, informal street processions in which musicians put on traditional dress from the region and walk through the town's narrow streets, serenading anyone who happens to be around. Most commonly, callejoneadas are led by student minstrels who perform Mexican folk music that tells stories and shares the city's history with people throughout the old town and city center. Catching a callejoneada en route is a great way to experience Guanajuato's history reinterpreted today.
In Mexico the range and diversity of culture to be found is exciting and inspiring. Music is just a little piece of the cultural and historical pie, but it is a tasty way to experience the country and to understand the different regions that make it up. What is your favorite kind of Mexican music? Where do you go to enjoy it?