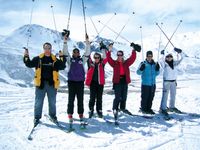 The Winter Olympics begin in just 9 days. Celebrate by registering for one of AmeriSpan's Language & Sports programs and save $125* (see below). In these fun programs, participants combine learning a language with learning or participating in a variety of athletic activities.
If watching all of the skiing in the Winter Olympics makes you want to get out and hit the slopes, we offer three different Language & Skiing programs: German & Skiing in Munich, Germany, Spanish & Skiing in Mendoza, Argentina, and Spanish & Skiing in Santiago, Chile.
The German & Skiing program combines 4 hours of daily German instruction during the week and skiing on the weekends, either Saturday or both Saturday and Sunday, your choice. Spanish & Skiing in Mendoza offers daily Spanish instruction and 3 ski days per week. Two private Spanish lessons are included to replace a day's worth of group Spanish lessons per week to allow weekday skiing. Spanish & Skiing in Santiago offers 20 hours per week of Spanish classes along with a weekday and weekend ski pass, and transportation to and from the ski resort are included.
Are warm weather sports more to your liking? No problem! AmeriSpan offers many programs for you too! Language & Sports programs are offered in Chinese, German, Italian, Portuguese, and Spanish and sport options offered range from Kung Fu to Scuba Diving, Golf to Windsurfing. Be sure to check out all of AmeriSpan's Language & Sports programs.
*Don't delay, if you register by February 28, 2010 and use the discount code "Olympics Special" when registering, you will receive $125 off your Language & Sports program that is 2 weeks or longer.