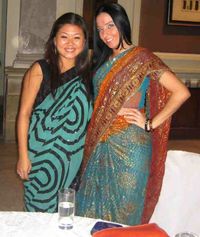 1. Buying & Bargaining. Shop
owners insist that they are giving a variety of discounts to you and only you.
i.e. the "Pretty Girl" discount, "First
Customer of the Day" discount, "Last Customer of the Day" discount, etc. You
can easily spot "touters" after getting taken once or twice. Often times, the
hotels and taxi/rickshaw drivers work together and they make commissions at the
shops. Bargaining is a must. If a street vendor tells you 50 rupees for some
bananas and an orange, he probably would have told a local 10 rupees. Never
accept a first offer. Walking away is the best way to get a good deal. If they
want your business, they will call you back over. When riding in rickshaws,
negotiate a price prior to getting in. Bigger cities like Mumbai have rickshaws
with fare meters. Also avoid buying tour packages until you get in country.
Many hotels have travel agencies on-site that can organize great tour packages
for reasonable rates.
2. Saris. Saris range in price from
15 USD to hundreds, even thousands of dollars. When Sari shopping, opt for
something more elaborately decorated if attending a nice function like a
wedding. The more intricate detail the better. Saris can also be extremely
difficult to wrap, so consider asking for help from a local instead of
attempting to do it yourself. Remember, you may only wear it once, but there is
tons of fabric so you can always get a nice sari turned into a fabulous western
style dress or wall tapestry upon return home.
3. When crossing Indian streets,
look both ways, and then run for your life. Likewise, if you can drive in
India, you can drive anywhere.
4. Be prepared for a lot of people
to ask you about President Obama. Indians typically like our President and will
ask you if you do too. They also frequently ask for trinkets from the U.S. They
will want anything so long as it spent some time in the states; a pen, a gum
wrapper; anything from the U.S. is cool to them. Maybe carry around pennies and
other small coins to give out.
5. There's a serious water crisis in
India. Avoid acting like the typical Westerner that pays no attention to how
much water we waste and run excessively; i.e. pre-shower, while brushing teeth,
washing dishes, etc.
6. Some food & drink tips. If
you are vegetarian, you will not have a hard time eating in India. With so many
religions (Muslims don't eat pork, Hindus avoid beef) most restaurants have a
vegetarian menu. Many restaurants serve ONLY vegetarian food! Lassi is a
popular yogurt based drink adored by Indians. It's made by blending yogurt with
water, salt, pepper, ice and other Indian spices. Remember, you're not supposed
to drink the water and even in nice restaurants you can't be guaranteed that
they used bottled water for Lassi. This is a common cause of "Delhi-Belly" for
travelers. It's very delicious, but also dangerous. Try Mango Lassi if you are
confident it's safe!
7. Henna & Weddings. Henna has
been used throughout North Africa, Asia and the Middle East for thousands of
years for adornment, ritual celebrations and health. Indian weddings are a
minimum of 3 days long; one day is devoted to henna. When getting henna done at
the wedding "Mehndi" party, wait for it to completely dry and leave it on for
as long as possible. The longer you leave it on, the darker it stains your
skin. It feels a bit awkward and leaves a mess on everything you touch once it
dries, but locals know it's normal to leave a trail of henna behind you. If you
can make it to a wedding, definitely go! It'll be an experience of a lifetime.
Sometimes strangers will be OK with you crashing their reception party. With
hundreds to thousands of people present, no one will know if you are there for
the bride or groom!
8. What to pack: Bring earplugs,
allergy medicine, antibiotics, toilet paper and toothbrushes. Ladies, leave the
spaghetti straps at home. The streets can be EXTREMELY loud in large cities,
even throughout the night so come prepared with earplugs. Likewise, the air in
these cities can be dusty and smoggy. If you're prone to seasonal allergies, bring
plenty of sinus medicine. Talk to your
doctor about what immunizations you need AT LEAST 4 weeks before your trip, and
have him prescribe "Z-pack" antibiotics. It's an antibiotic that fights
bacteria in the body. If taken as soon as "Delhi-belly" strikes for 3 days in
row, you should be cured in a day or two. Bring toilet paper for public
restrooms. Squat toilets (A.K.A. Turkish toilets) are still common throughout
India. Also bring at least 3 toothbrushes to India. We all know the "don't
drink the water" rule, but this also applies when brushing your teeth. It's
very easy to run your toothbrush under the faucet out of habit or to open your
mouth in the shower. Women dress
extremely conservatively. Pack layers since it can get very hot, but do not
plan to have shoulders exposed on the streets of many areas of India. Mumbai
and bigger cities may be an exception, but keep cultural norms in mind. What
you think is appropriate may not be.

9. Leave plenty of room in your suitcase. If you like fine
handicrafts, jewelry, colorful silks, scarves, tapestries, paintings &
tunics, India is a shopping haven. Pack light and consider bringing an extra
bag because everyone I know that has been to India returns home with MUCH more
than they came with!
10. India is magical. Keep an open
mind and desire to experience a fascinating culture unlike any other in the
world and you will not be disappointed. With so much to see and vast
differences in every region, don't rush this trip. From the capital in the
north to the beaches in the south, spend as much time as possible in this
fascinating Asian sub-continent!
Click for more information on AmeriSpan's Hindi Programs in India.
Click for more information on Volunteering in India.