By Felicia, Study Abroad Consultant
AmeriSpan just sent me on a tour of Spain! Although there was a lot of work to be done, I had an excellent time and a lot of fun. While there, I visited 10 of our Spanish schools in Spain, starting first in Salamanca, then to Madrid and ending in Barcelona. I also visited our Spain College Study Abroad programs.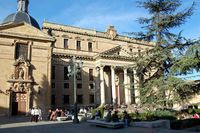 I arrived exhausted in Salamanca from a night of flying, but quickly found the energy to start exploring. It is a beautiful city with all the ancient sandstone architecture and windy cobble stone streets. Between meetings I got to stroll around town, which is one of the favorite pastimes for everyone who goes there. From Salamanca I was off to Madrid, where the city buzzed around me until I was literally buzzing through the city on my first motorcycle ride!
Then there was Barcelona. I admit I am partial, but it's because I was there longest. It is really true what they say, the architecture is incredible. Down in Ciutat Vella near the Ramblas, you can find amazing examples of Gothic architecture lining webs of endless narrow streets. Not only is this an ideal place to take in sights, it's got some great shopping. My last day was spent with Guadi, going to Parc Guell, Sagrada Familia and Casa Mila. I ended it with a drink of cava down by the beach at sunset. Not too bad for a business trip.