By Josephine K., guest blogger studying Korean in Seoul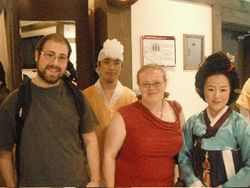 After spending a week in your Korean class the weekend is the perfect opportunity to unwind and explore the city. There are so many options but my favorite weekend evening has go to be going to a theatrical show.
The first show that I went to, which I highly recommend, is "Nanta." This is the longest running show in Seoul and perfect for any age. It is a show that is best explained as a mix between "Stomp" and "Top Chef". There is plenty of audience participation and the best thing is you don't have to know Korean to understand the show.
Before the performance begins a projection screen comes down and displays the plot as well as some instructions (such as no photos during the performance) in several different languages including English, Chinese, Japanese and of course Korean. The show itself is mostly a percussion performance where the performers use knives, fresh vegetables, and other kitchen supplies. There are 4 different theaters in the area that show "Nanta" and they all range in price from 30,000 – 60,000 won.
In contrast with "Nanta" the other show I went to see is a musical called "Miso" This show is the classic Korean love story told mostly through traditional dance. There was only one actress that sang which is why "Miso" is advertised as a musical. Even though I did not understand the singer (because it was in Korean) I was still able to understand the plot not only through dance but through a brief synopsis they provide before the show begins. This was done through a screen coming down on the stage just like at the "Nanta" performance. However, because it went through 3 languages rather quickly, I could not follow it all. Luckily, one of my housemates explained the plot to me before the show. Also, in the lobby before the theatre doors opened there was a monitor that explained the story in English.
Once we entered the theater cameras had to be turned off. However, after the show the performers came out and took pictures with the audience. Below is a photo of myself and my housemate after the show. While we are both very busy with our course work from the AmeriSpan Korean school we were also able to enjoy our weekend at the theatre!
Read all of Josephine's blogs from Seoul Korea.