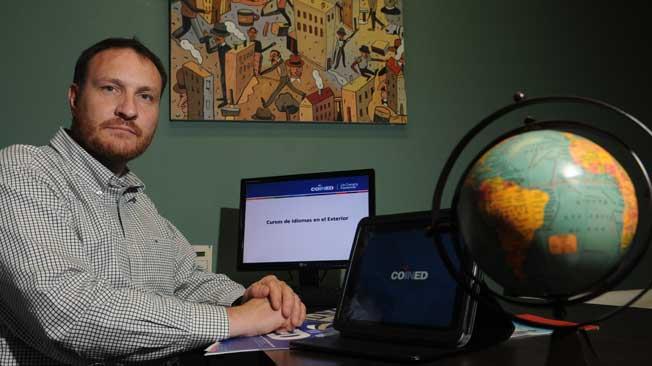 Enrique Helmbrecht is the founder and director of AmeriSpan's Argentina Spanish schools, COINED. The school locations in Argentina are: Bariloche, Buenos Aires, Cordoba, and Mendoza. In this interview, we spoke with Enrique about his life, work, and perspective. 
What is your background?
I'm a lawyer, and I had a law firm with an excellent reputation. I had 40 employees and many clients – many of which were banks. However, that is in the past and my passion is now helping people learn new languages and cultures.

How and why did you get into the Study Abroad market?
I have always been interested in study abroad but never really considered it as a career until I went on a trip to Germany with a client from Chile. He was a businessman who had to go to sign some things for a business and I went with him as a lawyer. I saw the challenges he encountered in a new country with a different language and culture. 
There had been an organization in Germany that assisted with these cultural issues between Germany and Argentina but it had closed.  I decided to found a new organization similar to this old organization but rather than focus only on exchanges between Argentina and Germany, it focused on Argentina and the world. Initially we focused on work exchanges where people from around the world would come to Argentina for work experiences such as volunteer and unpaid internships while we sent Argentinians abroad.  Soon after, we founded our first language school in Cordoba.
When did you start your organization?
In 1998. I did two years of combining the schools with my law firm, then I left the firm to devote myself fully to this. My experience shows that when you have a passion and feel like things are achieved. I transformed my passion into my work.
How did you and AmeriSpan begin working together
Well, AmeriSpan was well-known in the Study Abroad marketplace and were sending many people to Latin America to learn Spanish. They were interested in offering more locations and wanted to begin offering volunteer and internship opportunities. We were successful in Europe but had few participants from North America. In 1999, AmeriSpan sent a senior member of their team to Cordoba for 1 month to work with us to make our language program more appealing by introducing activities, tightening up our host family screening process and to evaluate our volunteer/internship program. Since then we have been strong partners. 
Can you tell us about your schools?
Our schools are dedicated to the development of international experiences: education, exchange, and working languages. We accept anybody, from age 5-70. You can study Spanish in Argentina while living with a family if you choose, or even come here to work for a few months in a volunteer or internship program. 
Do you travel abroad often?
Each year, I make between 15-20 trips abroad. We have offices in 9 countries and work with partners in many parts of the world. We never send anyone to a place that we have not seen or experienced ourselves.

Have you studied abroad?
Yes, my first study abroad experience was at 13, I went for two weeks to study in Uruguay. I studied at the Montserrat and was always very independent. Wanting to learn German, (my grandfather came to Argentina after World War I), I signed up for the Goethe scholarship and went to Germany for a year at the age of 16. 
My children also study abroad, and our family took a sabbatical in 2007 and went to live in Germany. Using the Internet, we picked a city where we knew no one, rented a house and off we went. The kids went to school, we made friends… 
What is your personal goal?
My personal goal is that when parents talk about their child's education, think about how your child will be cross-culturally. It is no longer enough to know another language, you have to understand other cultures.

——–