Newsweek recently published a study of health, education, economy, and politics to rank the world's top countries. Go to Newsweek's Interactive Map. 
How do AmeriSpan's study abroad locations stack up?
Overall
#2 Switzerland: Overall, if you would like to experience the country that ranks #2 on Newsweek's list, study abroad in Switzerland. With a 99% literacy rate, Switzerland ranks 6th in the world in education, and they rank 2nd in health with an average lifespan of 75 years. Switzerland has low unemployment, excellent environmental health, and is fairly gender-equal, all of which help it to rank 2nd in quality of life. Switzerland also ranks 7th in economic dynamism, and 11th politically.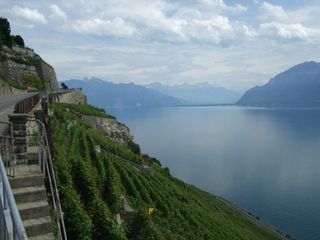 In Switzerland, AmeriSpan offers French in Montreux, Italian in Lugano, and even a teenager summer camp in Leysin (French).  
#7 Canada: If you would like to study French in a top-ranked country yet stay closer to home, look into study abroad in Canada. Ranking 7th overall, Canada came in 2nd in education, 7th in health, 10th in quality of life, 11th in economic dynamism, and 10th politically. AmeriSpan offers French in Montreal and French in Quebec City in Canada, along with Junior Immersion in Montreal.
Now we will review how many of AmeriSpan's other locations fared, broken down by region.
Latin America & Carribbean
#1 Chile (30th overall): Chile is a popular study abroad destination and also ranks #1 in Latin America. AmeriSpan offers the opportunity to study Spanish in Santiago, as well as College Study Abroad in Vina del Mar, Volunteer & Internship programs, SALUD Medical Spanish, Spanish & Skiing, and more. See all Chile Spanish programs.
#2 Costa Rica (35th overall): Costa Rica is known as the Switzerland of Central America, and is a peaceful, beautiful, and extremely diverse country. Newsweek's study agreed, as they ranked Costa Rica #2 in Latin America. AmeriSpan offers a wealth of Spanish programs in Costa Rica, including Spanish language immersion in ten location across the country. Also offered are Volunteer & Internships, College Study Abroad, Teenager Summer programs, SALUD Medical Spanish, and lots of Professional and Fun programs as well. Click to see all Costa Rica Spanish programs.
#3 Panama (41st overall): Made famous by the Panama Canal, this country offers so much more. AmeriSpan offers Spanish programs in Panama City and also the tropical paradise of Bocas del Toro. A variety of Volunteer placements can be found in this beautiful country as well. See all Panama Spanish programs.
European Union 
#6 Germany (12th overall): Hearty food, great beer, fabulous cities and tons of culture await in Germany, ranked 6th in the European Union by Newsweek. With German schools in Bamberg, Berlin, Frankfurt, Hamburg, and Munich, AmeriSpan has a German language program to suit your needs. Also available are Internships, Teenager programs, exam prep courses, and  Business & Professional programs specializing in banking, marketing, business, law, tourism, and much more. Also offered are German & Skiing and German and Beer. So much to do! See all German in Germany programs.  
#8 France (16th overall): Ranking consistently in education, health, quality of life, economy, and politics, France came in 8th in the EU in Newsweek's study. Take the opportunity to study French at one of AmeriSpan's eight French schools across the country. Also offered are the popular French & Cooking and French & Wine courses. See all French in France programs.
#12 Spain (21st overall): If you've read AmeriSpan's blog previously, you know we are already crazy for Spain. There is something for everybody in this magical country, from architecture to beaches to nightlife. With 15 Spanish schools across Spain, and a variety of language, teen, fun, professional, educator, and internship programs, be sure to check out this country, which came in #12 in the EU on Newsweek's study and 21st overall in the world. See all of AmeriSpan's Spain programs. 
East Asia & Pacific
#2 Japan (9th overall): Want to study abroad in the country with the #1 health in the world? Check out Japan! With a life expectancy of 76 years, this country has the best health. Japan ranked 2nd in East Asia and 9th overall, scoring 5th in education, 13th in quality of life, 10th economically, and 25th politically. Get healthy while learning a new language in Japan! AmeriSpan's Japanese schools in Japan are located in Kanazawa and Tokyo, and we also offers a Teenager Summer program in Kanazawa. See all Japanese in Japan programs. 
#4 South Korea (15th overall): Spend some time in the economic dynamo of South Korea, which came in #3 in economic dynamism in the world. Ranking #4 in East Asia, and #15 overall, learning Korean is sure to be a useful tool for the future. Go to AmeriSpan's Korean school in Seoul.
#7 Thailand (58th overall): Beating out China by one spot, Thailand ranks #7 in East Asia. AmeriSpan offers Thai language courses in Bangkok and Chiang Mai, as well as volunteer opportunities around the country. See AmeriSpan's Thai schools in Thailand. 
To see all the results from Newsweek's study go to their interactive website.
See all AmeriSpan programs.