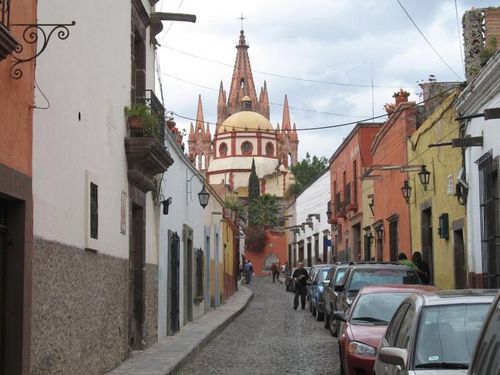 Itching to study Spanish at a location in Mexico that's safe and tourist-friendly but isn't an uncomfortably flashy beach resort town?  Then San Miguel de Allende may be just the spot for you!
San Miguel de Allende, while remaining to be a majorly indigenous and ungentrified city save for some American and Canadian retired ex-pats, is a unique location to visit in Mexico for many reasons.  First of all, it offers a healthy mix of things to do and places to go.  Many travelers have raved about San Miguel's traditional foundation, layered with modern conveniences and entertainment that make the culture shock not as heavy.  The city seems to be dead center in a spectrum of locations ranging from comfy tourist hub to exotic locale suited for seasoned travelers.
Our favorite locations tend to be those that offer a culmination of ancient and modern culture, and San Miguel de Allende is no exception: between the numerous outdoor adventure tours, artisans hawking their wares, museums, and annual festivals, this town's got a little of everything!