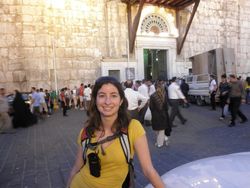 How in the world did I end up living my entire life as an exchange student? I am not sure, but  truth is, it has been enriching, I have learned more about myself than ever before and I have learned to communicate and understand others in many different ways.  I have friends from all over the world and during my last birthday, I had friend say "Happy Birthday" in 10 different languages.
I am originally from Argentina even though I often don't feel that I come from there anymore.  I will never forget my first week of class at Permian High in Odessa, Texas and then one of my classmates asked me where I was from and I said Argentina.  His reply was "Argentina in Texas??" I wasn't really sure how to react at that point…  
After Texas I went back to Argentina for college and of course, I was the "foreigner" of the class.  I would write the date in "English" format and my notes where half in English, half in Spanish.  I was probably the only person whom nobody could borrow notes from.  Yay!! hah, hah.  Anyway, it was there where everything started "officially."
My first job was at a small language school, where I was in charge of student services.  My main responsibility was to make sure all the students learning Spanish had a good experience, were satisfied with what they were doing and help them in logistics.  That then turned into different other shapes and forms and in the end I was in charge of the Internship and Volunteer program where I worked closely together with AmeriSpan.  Yes, AmeriSpan, the innovative US partner we had at the time (we are still partners) who would come and visit us with great ideas and innovations! 
We grew closer together as time went by, both organizations grew and they both supported each other in their expansion.  But that wasn't enough for me, I decided as an 18 year old, I would take a break from Argentina for about 3 months and go back to the US.  You can imagine my boss' reaction to this, but I was young and I gave him no choice.  One of the things I did was work from Philadelphia for a month at AmeriSpan.  This worked really well and brought both organizations even closer together.  We have similar views and most important of all, we both change lives.
Anyway, years went by and I was the "US eye" of the Argentina school.  Every issue went by me to make sure our US students would get their expectations met.  To top it all off, I moved to Philadelphia after college and worked for AmeriSpan for 1.5 years.  Yes, you read correctly… start everything again from the beginning: a new job, a new city, a new country, a new group of friends, a new LIFE!  Again, this was my…mmmmm… I have probably lost count but… the 9th city where I have lived.
Some of you might have spoken with me while I worked at AmeriSpan, some of you on facebook, or skype.  All in all, I continue advising students on what their best option is on traveling abroad and many times show them that traveling abroad is a MUST.  It is no longer enough to go to college and continue with your MBA… your education is not done if you haven't traveled abroad.
Where am I now?  Guess?  I come and go between Argentina and the US. I have already made friends with officials at immigration in Cordoba since I see them so often.  I work with the chain of Argentina schools, both from Cordoba and Miami as Commercial Manager and travel all over meeting universities, partner organizations and program providers.  I have experienced a culture shock to my OWN culture once and consider myself a citizen of the world.  I talk about going to the other side of the world just like if I was going around the corner and people can no longer keep track of where I live.  
Life is short, live it fully!
See AmeriSpan's Spanish schools in Argentina
Save $200 on Argentina programs
Read about Connie's innovative boss and how he got involved in study abroad
Connie has also been active in charitable work, founding Go Give an Opportunity which assists Argentinians in paying for school books, uniforms and tuition.  To sponsor a student or make a general donation click here