By Angela B., AmeriSpan Delegate, studying Spanish in Uruguay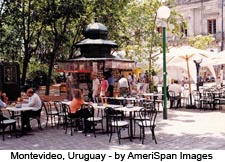 So another week in Uruguay…a success, it's still cold but we are managing to have some fun!  This week Juan had another little field trip, this time to a part of Montevideo called Ciudad Vieja, the old city.  It's beautiful and pretty "old."  It is where the city began, so there's a lot of history to look at and learn about, it's beautiful!  We also saw a restaurant that George Bush ate at when he came he to visit a few years ago, I thought that was interesting, hahaha!!  
I've been a little under the weather this week so I've been trying to go out and have fun, but also go home early and try to get lots of sleep, so I've done things like go to the movies instead of walking through the city if I don't have to.  Or take a bus or taxi instead of walk. So one activity that we did this week was a little "intercambio," where some English learning students came over to our school and we spoke with them in Spanish and visa versa. We shared some wine, and tea, and cake and some good conversation, it was great!!
I'm so excited about this weekend because we are going to Buenos Aires, Argentina to spend the weekend, so I'm sure I'll have a lot to talk about next time!
Click for more information on AmeriSpan's Spanish school in Uruguay.
Click for more information on how to become an AmeriSpan Delegate.
Read all of Angela's blogs from Uruguay.