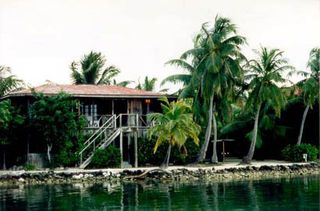 By Liz L., guest blogger studying Spanish in Honduras
Well, I arrived. I´ve been here one week and I´m starting to get adjusted to things. For example, I´m starting to figure out the keyboard, which has buttons in different places. I still haven´t figured out how to make smiley faces, so my e-mails to my friends and family have the closest approxiamation I can come up with: :}.

Things were a little crazy when I first got here. I was pretty tired when I first arrived. After all, I had been traveling for over twelve hours at that point and had very nearly missed my final flight because my second one got stuck on the runway for over an hour. I have to say that I was definitely glad to shower and sleep. I cleared customs easily enough and walked around the meeting area looking for someone with a sign with my name on it. I saw no one, but figured that I stuck out enough that I would be found or that the person from the hotel was running late. Very few countries seem to run on the same definition of "on time" too, so I wasn´t worried.
Fourty minutes later, I started to get worried. I started asking the other people with signs around the airport if they were knew anything or could help me. After many offers for expensive hotel rooms, I finally found a man who let me use his cell phone to call the emergency numbers listed on my e-mail from Amerispan. Someone answered and I was told I would be picked up in twenty minutes. Relief. I walked around the area for the twenty minutes and kept looking for that person with the sign with my name on it.
Moments later, relief bubbled up in my chest as a man in a van pulled up with a sign with my name on it. The man could have been anyone and I could have been going to the dentist and I would have kept smiling. We drove through San Pedro and I asked about the trip the following day to La Ceiba. He had the information for me and told me the bus would take approxiametely three hours.
I was surprised to see how nice the buses are in Honduras. They have shades on the window and pass out free snacks and water to the patrons before leaving. It was definitely a pleasant way to pass three hours. Upon arriving in Ceiba, I met the school director and we chatted as he drove me to meet my new host family. He explained to me that the family had changed too. I don´t know the reason, but now I would be staying with another family although still close to the school.
So, what did I learn this first week? Aside from mastering the use of the upside down question mark on the keyboard, I learned a lot about just going with the flow of things and being patient.
Until next time, hasta luego!
Discover more about studying Spanish in Honduras
Read all of Liz's blogs from La Ceiba