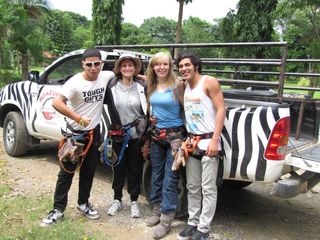 By Liz L., guest blogger studying Spanish in Honduras
It´s the beginning of week two and I had a great weekend. On Saturday, I went on one of the various school activites with some of my new friends. We all met at the school in the morning and rode a zebra-striped car into the jungle. At the head of a trail we suited up and then climbed back into the car for a quick ride up the mountain. We stopped at a spectacular view of the bay, and my friend Hector said that on clearer days one can see all the way to the islands across the bay.

Then we turned around and saw the platform on which two guides waited. I looked down. It didn´t seem that far. My friend Richard went first and he started screaming halfway across the zipline. The guide hooked me up and then we said adios – goodbye. The zipline dashed out over trees hundreds of feet tall and I gasped as everything sped by. I could see small waterfalls and hear birds chirping. I couldn´t help but wonder what animals lurked that I couldn´t see. We continued down about fifteen different ziplines, including one where the guides shook the line as we zipped across.
At the bottom, we laughed as we walked to the thermal hot springs to take a bath. Warm waters cascaded down smooth rocks and we floated in the steaming waters peacefully. Then the guide brought us watermelon and pineapple to nibble. There were three different pools, each getting progressively warmer. Before walking up to the last pool the guide gave us a pot of reddish mud. Like children, we painted each other with the soothing volcano mud and enjoyed the respite from the mosquitos it provided. As we dried, we walked up to the last pool and I couldn't help but think we looked like a procession of the terra cotta soldiers found in China.
Finally, we dried and Hector and I jumped into the pool with loud whoops while Froekje and Hector climbed down the stairs leading into the water. We floated and swam and played for hours. We listened to the birdsong and the world was far away. It was definitely one of the best Saturdays I´ve had in a long, long time.
Until next time, ¡hasta luego!
Discover more about studying Spanish in Honduras
Read all of Liz's blogs from La Ceiba