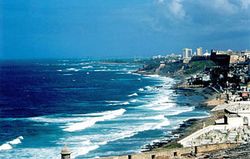 If you are looking for a great place to study Spanish, consider AmeriSpan's programs to learn Spanish in Puerto Rico, located in San Juan.  Read on to find out the top 5 reasons to study Spanish at this school.
1. It's Easy to Get to Puerto Rico
Easy Flights, No Passport. With dozens of daily flights, many of which are direct, Puerto Rico is an extremely accessible destination for U.S. travelers. By the way, you don't even need a passport to travel to Puerto Rico!
2. Less Culture Shock = More Time Learning Spanish
That's right, everything is easier in Puerto Rico for American travelers. They use the same currency, infrastructure, electricity, laws, food regulations, and pharmacies! This cuts out so much of the worry and time you need to take when traveling abroad to make sure you have the right electrical adaptors, the best exchange rate, and know the (sometimes obscure) local laws and customs. Plus you have less worry about getting sick from eating the local food and the assurance that you will have access to medicines you are used to in case you do. 
3. A True Immersion Experience
This is from the director of AmeriSpan's Spanish school in Puerto Rico, regarding the immersion experience possible there: "Technically both English and Spanish are the official languages however the lengua franca, the native tongue and what travelers will hear on the street is Spanish. I like to compare Puerto Rico to a cake, on the surface we look like a modern city, comparable to many in the US but as soon as you pass the icing you see that our true identity is a Latin country. We speak, dance, sing, cook, work and play in Spanish and are truly a Latin community. So a true immersion experience is possible here."
4. So Close, Yet So Far
At our Spanish school in Puerto Rico, the offices and homestays are located away from the main tourist areas. This ensures even more of an immersion experience. However, you need not miss out on some of the fun tourist attractions as Old San Juan, Condado, and Isla Verde are all located only 20-25 minutes away by public transportation or private car. 
5. Classes, Culture, and Vacation!
Puerto Rico is such a multi-faceted island, it offers sunny beaches, mountains, adventure, culture, and history. Our school offers at least one excursion each week with a certified guide. Many additional options are also available. Examples of excursions include: A trip to the farmer's market, a historical walking tour of Old San Juan, catamaran trips, canopy zip lines, and trips to delight nature-lovers to the bio-bay or the rainforest. 
Find out more about AmeriSpan's San Juan Spanish schools.