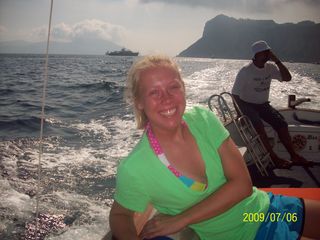 By Great Travel Abroad Participant Halina C.
Two years ago, I went with my school to Naples, Italy to study Italian and the culture of Naples. It was an amazing and eye-opening experience, filled with culture and history. It was the first time I'd gone on my own trip without parents and really put the effort in of learning the native language. I learned so much more than just Italian; I learned how to get around a city of 3 million on a different bus and subway system.


Though it was scary at first, I really learned how to see as much as possible and do it how everyone else there did it. Traveling is so easy in Europe because the public transportation is so fast and readily available. I really feel like I got the most out of my trip because I explored every where I went, and walked all over the city. The food was the best part, I had never tasted anything so fresh and flavorful in my life! I cannot wait to go back, the people there were the nicest and most helpful when I asked for any information on where I wanted to go. I would do this trip all over again, and enjoy it even more the second time around!
Learn more about AmeriSpan's Italian schools in Italy and learn Italian in Italy.  The program we offer that is closest to Naples is our Sorrento Italian school.