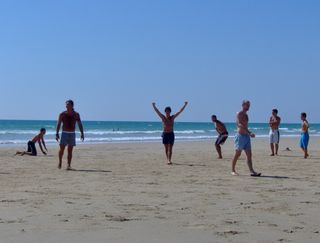 As you may know by now, AmeriSpan recently launched its Fundraising Program to assist participants with the costs of their study abroad programs. Fundraisers can submit their story and goal and then use AmeriSpan buttons on their website or blog to share with friends and family that link to their very own fundraising story and page.
So far, this feature has been popular and a very helpful tool for students to finance their plans. Our site has an FAQ page for those wanting to find out more, including some ideas for getting your fundraising started! Some of these ideas include:
Do some research to get ideas. A quick Google search of "fundraising ideas" will get you started.
Start a blog or document your efforts on Facebook (remember to post your donate link from your fundraising dashboard).
Ask your friends and family to donate. $5 or $10 may not seem like much but multiple that by many people and it can add up. You may be surprised, some distant relative may make a big donation.  Remember to ask for donations in lieu of birthday, graduation and other gifts (hint: you will still probably get gifts too!)
Spread your "My Story" and Donate links in emails, blog posts, etc.
Find some sponsors whether it is your boss, teacher, spouse, or parent to help spread the word by soliciting their friends and co-workers.
Keep AmeriSpan updated on your efforts so we can keep your story updated.  We may even blog about you.
Need more ideas? Check out FundraisingIdeas.org or Fundraising.com for even more inspiration!
Learn more about this program on the AmeriSpan Fundraising page.