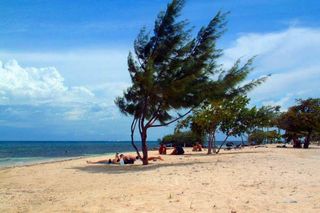 Meet Lucie C., Fundraising participant who will study Spanish and volunteer in Honduras

 What is your background?
I'm a seventeen year-old high school senior. I'm going to be on a plane to go volunteer in Honduras at 5:00 am the very next day after my high school graduation! So much culture shock, haha! I live in Austin, Texas, and I volunteer a lot and currently work part time for two nonprofit organizations. I'm headed to university next year to be a psychology major, but I plan to go into social work after that. I currently live with my parents, younger sister, and dog (who is the love of my life).

Do you travel abroad often?
I have been to rural Mexico several times for mission work, but I've never traveled through AmeriSpan. 

Have you studied abroad?
No.

Which languages do you speak or have studied?
I've studied Spanish. I can't say I'm fluent, but I get by okay.

Tell us about one of your biggest challenges you've encountered abroad.
In Mexico, the biggest challenge was always leaving. I tended to get sad a few days before I was supposed to depart, because I loved where I was and I loved the people I had been living and working with. The culture shock of coming back to Texas was not the most fun thing ever, but totally worth it (of course).
Why did you choose an AmeriSpan program?
There are three main reasons I like AmeriSpan (even though I haven't been on my trip yet). For one, they have a huge variety of programs for people of all different language levels with all different interests all over the world. I was able to find exactly what I was looking for: a social work opportunity working with kids in Honduras for someone who knows some Spanish but isn't fluent yet. That's really specific! The second reason is that they have low costs compared to other travel abroad programs. And third, they've been really easy to work with. *high five, AmeriSpan*

How are you fundraising?
I wrote a letter that included a link to my fundraising page on AmeriSpan and sent it to all my relatives. I didn't want to be pushy but I did want them to be able to donate if they wanted to, so I just told them what I was doing and then said, "If you want to help me…" When people donate, I send them a handmade thank-you card. 

Do you have any tips for other fundraisers?
Just keep trying. Ask the people who already want to support you but may not know how, like distant rich relatives if you've got any.
But try not to get too consumed with the money aspect of it. The trip is about learning and/or serving others, not who can get the most money.
Learn more about AmeriSpan's Fundraising Program or make a donation