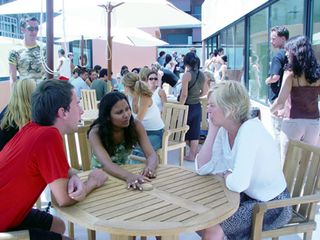 Meet Paula Cerdeira Núñez, Academic Coordinator of AmeriSpan's Barcelona Spanish School (Budget-Friendly)
What is your background?
I am 35 years old and live in Barcelona. I have a degree in German Philology.
Do you travel abroad often?
Usually on vacation. My last trip abroad was to Russia and Kenya
Have you studied abroad?
Yes, I studied a year of study in Aachen (Germany) and worked four years as a translator.
Which languages do you speak or have you studied?
I studied English and German
How and why did you get into the Study Abroad market?
Afther returning from Germany, I sought work in the Spanish field as a foreign language instructor to continue to learn and undertand this industry better.
What is your job or function at the organization?
Academia Coordination, students and teachers, assignment of groups, levels, selecting and training teachers.
What do you enjoy the most about your job?
Being in contact with people off all nationalities and helping to create lesson plans.
Was a person, group of people or organization that were instrumental in your success?
The academia manager of school and my work team
Tell us one of your biggest mistakes in your job, studying/teaching a language and/or traveling abroad? There were some uncertainties due to the lack of experience at the beginning that throughout the years I have acquired, and I feel much more confident now.
Can you tell us about your schools philosophy, specialty and/or why you think it is special?
Personal attention to the student, possibility of student to transfer to another one of our many schools in Spain who use the same method . We have our own manual/teaching method developed by teachers who perfectly know the needs of students.
Find out more about studying Spanish classes in Barcelona