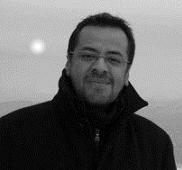 Meet Pedro Rodríguez Valladares, Head of Studies at AmeriSpan's Guanajuato Spanish school
What is your background?
I am 42 years old, and I have a degree in Human Communication and my MA in Psychoanalytic Theory. I live on the outskirts of Guanajuato in a truly peaceful area. My family has a Pug dog named "Fito ".

Do you travel abroad often?
Until last year, with some frequency, but during 2011, tours are waiting.

Have you studied abroad?
Yes, some English language courses in the United States, in the city of Portland, Oregon. I lived with an amazing family that is still considered that: My family in the U.S.. An excellent experience.
Which languages do you speak or have studied?
I speak Spanish, English and studied a little German and Portuguese but do not remember much of these languages.

How and why did you get into the Study Abroad market?
When I was 17 years old, someone invited me to take a training course for teachers of Spanish as a second language. I went, I liked it, I started combining Spanish instruction classes with my education and it's amazing that since I was 17 I've been working with all of these incredible language teaching groups.
When did you start/join your organization?
On March 3, 2003.
What is your job or function at the organization?
I am the Head of Studies and also a teacher.
What do you enjoy the most about your job?
To have the possibility to teach my classes and thus meet interesting people from all over the world.
Was a person, group of people or organization instrumental in your success?
Each teacher, each person in the administration office, every family, without exception, have helped to get things done right in our school.
Tell us one of your biggest challenges in starting your organization.
The biggest challenge was to amalgamate the different capacities of our teachers to have a new perspective- to leave teaching and the traditional teaching method for a more active, more practical and useful approach for the student. It was an interesting challenge but ultimately not as complicated, as the teachers have adapted very well to the new teaching methodology.
Can you tell us about your school's philosophy, specialty and/or why you think it is special?
We at dQ Mexico have the good fortune of having a team of the best teachers. Each of our teachers is committed to the maximum for our students to learn what is taught in class. At the same time, they have many years of experience in front of the group and maintain the position that they not only teach but learn in each class every day. That gives freshness to our business. 
Anything else?
A simple comment for students: When you arrive to Guanajuato, you will discover the first door of the Mexican culture. Guanajuato is a small town full of magical things to discover. Every street and every house is full of color, every person who walks is a good example of what is Guanajuato: A place where time stopped and one can enjoy culture in every corner. If you come to Guanajuato, be prepared to meet the traditional and warm Mexico that greets you at all time.
See more information on AmeriSpan's Guanajuato Spanish school