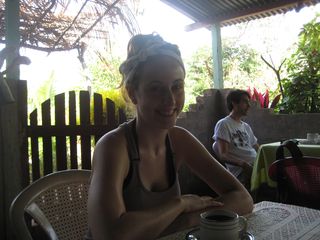 By Sarina R., guest blogger studying Spanish at AmeriSpan's Antigua Spanish school
Welcome to my Antigua, Guatemala blog! My name is Sarina, and I will be here in Antigua studying Spanish for the next four weeks. I hope to provide the most honest assessment of my experience as possible, with a focus on hot tips for trip preparation, life in Antigua, and travel. While I've got a few travel experiences under my belt (in Egypt, Israel, Turkey and Jordan), this is my first time studying Spanish (in the States or abroad) and only my second time in Central America. So I´m sure we´re all in for a wild ride.

A bit about me: A native of Philadelphia (go Phillies!), I graduated with a degree in journalism at Northwestern University in 2008. Following graduation, I worked on an environmental campaign with the Public Interest Research Group in Chicago, and then directed a voter registration drive in Philadelphia leading up to the 2008 presidential elections. Since then, I´ve been working as a paralegal in New York City. While I had initially considered a career in law, I´ve opted instead to pursue my interest in public service, particularly in working with incarcerated populations. As you can imagine, Spanish language skills are extremely important in the non profit sector – unfortunately, my four years of Latin study will only get me so far. This summer, I´m kicking off my Spanish studies here in Antigua prior to the start of my graduate program in Public Administration (MPA) at George Washington University in Washington, DC. While these four weeks are only the start of what I hope will be years of practice and work in Spanish, I´m confident that by living the language this summer I´ll make up plenty of lost time. And, hopefully, enjoy some unique travel as well…
 
I arrived in Antigua about five days ago. Since then, I´ve had some time to explore some of the highlights of Antigua, get to know my homestay family (a single mom and two teenagers), and begin my Spanish study. In my next entry, I´ll discuss aspects of my trip preparation that I´ve found useful thus far, those I did not, and some recommendations for those of you considering study in Guatemala.
Read all of Sarina's blogs from Antigua
Find out more about AmeriSpan's Antigua Spanish school