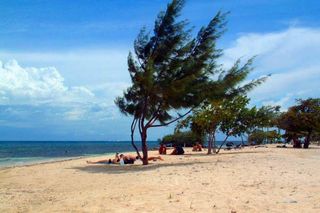 By Lucie C., student at AmeriSpan's La Ceiba Spanish school
Hola! My name is Lucie, and I am from Austin, Texas, in the United States. I just turned eighteen and graduated from high school, and by "just," I literally mean that I boarded a plane for La Ceiba, Honduras a mere eight hours after receiving my diploma. I am so happy to be able to call Honduras my home for eight weeks this summer. It has been my dream for years to visit a foreign country, learn the language, and soak up the culture. I chose Honduras because it seemed like the perfect mesh of beautiful, relatively safe, not too far out of my budget, and very, very different from the United States! Honduras won't be foreign to me for long, though, because I'm learning quickly and am beginning to feel more and more Honduran every day.

The first time it really clicked with me that I was in Honduras was when I arrived in the city of San Pedro Sula, Honduras. When I got off the plane I quickly realized that nobody spoke English, and I needed to figure out where to go for my next flight and how to recheck my bags after customs! That was the first test of my Spanish abilities, and thankfully I passed. (I did have to use some unofficial sign language, though.) When it was time for me to board my final plane, I saw how tiny the plane was and I got scared! The scenery was absolutely beautiful, though, and it ended up being my favorite flight by far. We flew over clear blue rivers, lush green mountains, and little communities with only their street lamps on, and because the sun was setting, the sky was all shades of pink, purple, and orange. I will never forget that plane ride. When we got off the plane, all it took was two men to carry all the luggage into the two, maybe three room airport. (That's all I could see, anyway.) Then a Honduran man walked up to me and said in English, "Are you Lucie?" And that was it! Honduras, here I come!
See all of Lucie's blogs
Learn about AmeriSpan's Honduras Spanish Schools