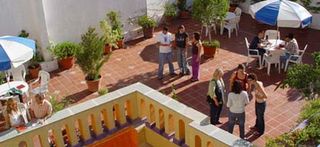 Meet Pedro Martin Rodriguez Valladares, Head of Studies at AmeriSpan's Guanajuato Spanish school
What is your background?
I live in Guanajuato, I am 42 years old, and I have a degree in Academic Psychology.

Do you travel abroad often?
At least twice a year.

Have you studied abroad?
Yes, I went to university abroad.
Which languages do you speak or have you studied?
English and a bit of German.
How and why did you get into the Study Abroad market?
I was an instructor of Spanish for over twenty years. Eventually, I taught at a Community College in the state of Oregon through an Intercambio ("Interchange") program. And here I am!

When did you start/join your organization?
In 2003.

What is your job or function at the organization?
I am the Head of Studies.

What do you enjoy the most about your job? 
Working to organize courses and supporting instructors inside and outside of the classroom. And of course, meeting people from around the world!
Was a person, group of people or organization that were instrumental in your success?
All of our instructors and host families. Without them, our programs wouldn't be nearly as successful.

Tell us one of your biggest challenges in starting your organization.
Everything is challenging when you strive to create the best cultural and academic environment possible!

How did you and AmeriSpan begin working together? 
AmeriSpan and Don Quijote are partners.

Can you tell us about your schools philosophy, specialty and/or why you think it is special?
Everyone at Don Quijote is committed to our students living the language in this city and, of course, our school. We encourage our students to not just learn the language but to appreciate the culture as well.

Find out more about our Guanajuato Spanish school