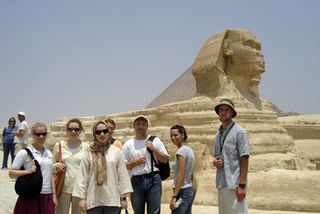 This year, Muslims around the world are celebrating Ramadan, Islam's most important holiday, from August 1-29. The Director of our Cairo Arabic school shares a greeting:
"Ramadan Kareem! It always amazes me how quickly time passes, and once again students of ILI get to experience the rich tapestry of Arabic culture during Ramadan. This month long festival which brings calm city days and festive evenings provides ILI students with an endless supply of activity and cultural learning to occupy their time after school and homework.

"And of course our teachers and staff are more than happy to provide our students with in class cultural lessons and special traditional phrases so that they might engage positively with local Egyptians.
And indeed they do engage! Due to our very central location, our convenient class times (8:30-2:30), our friendly and local staff and extracurricular activities, students find getting into the community easy and rewarding. Especially during such an exciting and optimistic time in the history of this country."
Learn more about AmeriSpan's Cairo Arabic school