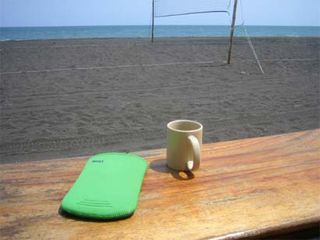 By Sarina R., guest blogger studying Spanish at AmeriSpan's Antigua Spanish school
Today, a bit on packing and general safety for travel in Guatemala.
In preparation for the trip, I scoured Lonely Planet, Moon, the internet, etc. for packing tips in the rainy season. Yet despite my research, I found specific and useful information hard to come by. As a result, I went the ¨pack a little bit of everything¨ route, and it ended up being a pretty good decision. A few pearls of wisdom..

Clothes: Since the climate here in Guatemala varies so significantly by location (for instance it could be chilly in Antigua, but muggy and hot on the Pacific coast), clothing choice in particular presents a bit of a challenge. I came with two pairs of jeans, one pair of ¨hiking pants,¨ and a few skirts. A few weeks later, I´m wishing I had one more pair of jeans in exchange for those hiking pants, and perhaps a pair of shorts or two. While Antigua can get very hot during the day, once the rain begins in the afternoon or evening, the temperature drops significantly. In addition, as is the case with other places I´ve traveled, locals here tend to dress more conservatively than the tourists. For girls wishing to attract as little whistling as possible on the street, I highly recommend pants or a long skirt any time of day. This isn´t to say that female students I know don´t break out those jean shorts every now and then, but be forewarned that they attract lots of attention. Finally, for us ladies, pockets are extremely handy in the evening, when it´s not advised to carry a purse to the bars (ie a target for theft). I´m wearing my skinny jeans with pockets out to the bone here, because they have pockets and don´t drag on the ground when its raining (which often occurs during the bar hopping hours). As for trips out of Antigua, a pair of shorts, a bathing suit or two, and a long sleeve shirt for the evening will do. So far, I've been to Monterrico on the Pacific Coast and Copan, Honduras, and both have been extremely warm. Final word – conservative dress for the day, with a few items you enjoy wearing to casual bars for the evening.  
Other stuff: Let´s be honest, Antigua hosts a subway, a large market, and dozens of English speaking bars. So it´s no surprise that it´s pretty easy to find almost anything you need, even for the most basic Spanish speaker. That said, there are a few essentials that I would highly recommend bringing from your home base.
Insect repellent with DEET — While Antigua experiences less of a mosquito issue than I was  expecting, let´s just say that limbs absolutely covered in bites are a souvenir you should expect on most weekend excursions. I´ve been using repellents with 25 and 40 DEET, and get absolutely demolished at night outside the city if I´m not completely covered in spray. I´m sure you can repellent in Antigua, but I imagine it´s more expensive (and you´ll want it from day 1).
Shoes for walking — Roads here are bumpy and school can be a 10 or 15 minute walk from home. I´ve been wearing my Toms every day (literally) and have so far avoided an embarrassing nose dive. I have not seen other decent walking shoes for sale, thus far.
A bag with a zipper — School provides books for homework. You´ll want a small bookbag or a large purse (or messenger bar) that zips to prevent theft and rain damage. Another larger bag for weekend trips outside Antigua is also useful. I have a large tote for that and love the fact that my gigantic backpack stays home.
Allergy medicine – I´ve asked around, and apparently my issue with allergies here is the norm. If you have dust, mold or pollen allergies, I recommend plenty of medicine.
Traveler´s Checks – I´ve been taking my chances with ATM thus far, but I´ve heard several stories of theft occurring at the ATM. Guatemala is having an issue with a problem referred to as skimming, where people will steal pins and bank account information from the ATMs. It´s also possible to take money out of the bank directly, but travelers checks are a good idea in the event that you do become a victim of skimming, and need some money to tide you over until you can get your new card. Banks here do accept travelers checks to exchange for dollars or the local currency.
Smart phone or laptop — I chose not to go this route, but many students bring their smart phone or laptop since wifi is plentiful. Most hostels, many bars and restaurants, and some homestays have wifi for use. It´s also possible to use internet cafes (I do every day), but particularly during travel on the weekends, access to email at your hostel can be a boon. That said, theft is always a possibility.
Expensive jewelry — Leave it at home.
And, finally, safety.
I was concerned about the safety situation here before I left. And, while there certainly are safety concerns, smart packing (ie a good secure bag, pants for carrying cash and your cell phone, travelers checks just in case) and common sense go a long way. It´s generally accepted here that women in particular should never walk alone at night after 9 pm. After bars close at midnight, anyone should take a cab. Other than that, general city precautions such as not flashing wads of cash, wearing expensive jewelry, or carrying a camera in your hands, should suffice. Luckily, the school goes over safety concerns on your first day, and homestay families are more than happy to answer questions about specific areas of the city and country.
Photos: I was glad about my last minute decision to pack my Kindle, since Guatemala hosts many tranquillo travel spots perfect for a good book, or two…or three. During my weekend in Monterrico (on the Pacific), it got a lot of use!
Read all of Sarina's blogs from Antigua
Find out more about AmeriSpan's Antigua Spanish school