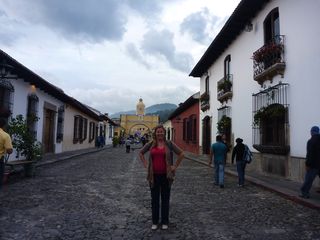 Guest blogger Lynne R. guides us through four weeks of immersion at our Antigua Spanish school
When taking a trip so far outside of your known universe you can't help but wonder what to expect. So as my driver wound his way through Antigua's labyrinth of narrow, cobblestone streets I couldn't help but think, "God, I hope he knows where he's going." Moments later, though, I had my answer when he pulled into a stonewalled dead-end and a sweet-faced woman came rushing down the dizzying steps that led to her home. The driver smiled and informed me, "Su nueva madre".

My new mother is Ana Maria. Clearly she's done this before. I could see it in her eyes; the look of compassion, the enthusiasm, and the knowing smile that told me everything will be okay. But I don't believe it. Not really. Oh no. This will be awkward, I tell myself. The kind of awkward that comes then you show up at the doorstep of a perfect stranger, move in for a month, take up their closet space, and try to construct dinner conversation using the only twelve words you know in Spanish. Oh yes. This will be awkward. Of that I am certain.
I kill the first fifteen minutes with the busyness of settling in. Easy enough. I don't understand exactly what Ana Maria is saying but I can figure it out by the way she's gesturing. Bedroom is here. Clothes go here. Bathroom is here. Then we take a quick tour of her home. It takes five minutes. It's modest, but lovely. And my god, it's immaculate. I'm glad she'll never see my closet- it would probably kill her.
And then the moment I dread arrives. The moment when all the busyness is over and it is just she and I. Sitting on the couch. Looking at one another. Oh god. It's about to get awkward. Here it comes!
Fast-forward thirty minutes later. I'm sitting in the living room, laughing with Ana Maria Caceres De Reyes, her husband Mario, another student boarder, and the handful of relatives who just happened to swing by. And something wonderful happens. They give me a gift. One that far outshines the photo frame and throw blanket I brought them.
They give me the one thing I needed; the realization that everything is going to be okay. And this time I believe it. Really. In fact, it will be more than okay. It will be fantastic.
It already is.
See all of Lynne R.'s blogs
Find out more about our Antigua Spanish school