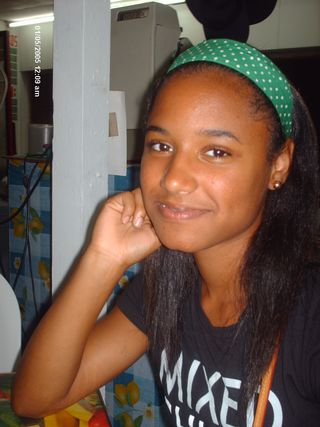 By La' India S., a Teen Delegate participating in AmeriSpan's Coronado Independent Teen program
My first week in Costa Rica has been amazing! The school is smaller than I expected but beautiful. The surrounding scenery is full of trees and flowers. The teachers are nice and helpful. They have one goal and that is to teach us as much Spanish as they can and help us learn about Costa Rican culture as well as other Latin American cultures in today's society. In class we review verbs, culture, and play games to help us remember and use what we have learned. Each night,  we receive homework, or "tarea", that leads us into discussion for the next day and helps us with our conversation skills. My daily schedule starts by waking up at 6:30 am. I take a shower and get dressed and breakfast, or "el desayuno", as we say here, is at 7:30 am. At 7:45 am, I walk to school and classes begin at 8:00 am and go until 11.40 am. After school, I walk home with friends. We usually go to the cafe close by or an ice cream shop called POPS. The ice cream is amazing! I always get the same thing, a vanilla caramel sundae with whipped cream and nuts on top.
My host family reminds me of my family back home. They are helpful and supportive. Here, I have one brother, two sisters and a father and mother. My two sisters are twins. They are playful and friendly. The whole family keeps me laughing. We also have a French poodle named "Poli". For breakfast, we eat fresh fruit and bread with butter or cream cheese. For dinner, we have a variety of foods. My first day, we had Gallo Pinto for breakfast. Gallo pinto is a typical Costa Rican dish for breakfast or lunch. It consist of rice and beans with sour cream and a fried egg. It is very delicious. They also showed me around the town of Coronado. It is a small town but has lots of small shops, cafes and restaurants. Coronado is famous in Costa Rica for the church in center of the town.
This weekend, my classmates and I went to Puerto Viajo, Costa Rica. It is located on the East side of Costa Rica. It is also called Pura Vida and the Caribbean side. We stayed in cabins called "cabinas" and went to the beach and shopped. The beach was unbelievable. The water was crystal clear and there were coconut trees everywhere. Also, the food was very good. There were a lot of rice and beans and chicken and plantains. The people were very friendly and helpful. They had Jamaican colors and Bob Marley everywhere. The men had dreadlocks and dark skin. It felt like a whole different country. It was the ultimate vacation!
See all of La'India's blogs
Discover AmeriSpan's Coronado Independent Teen program