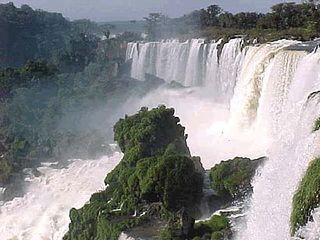 Each week, we've been posting destinations on AmeriSpan's "Bucket List", or places we want to go before we "kick the bucket"! Last week we discussed Machu Picchu, Peru, and this week we're highlighting Argentina's Iguazu Falls, just a weekend excursion away from our Argentina Spanish schools.
Sitting at the border of Argentina, Brazil and Paraguay, Iguazu Falls are a series of some of the largest waterfalls in the world. This sight is a truly majestic spectacle, and draws international crowds. The falls are so breathtaking that former First Lady Eleanor Roosevelt once exclaimed "Poor Niagara!" when she went to see it! Many AmeriSpan participants opt to visit the falls at some point during their immersion program and don't regret it.
Our bucket list was inspired by 'Organizing an Event's" article entitled "10 Events to Attend Before You Die."
Find out about learning Spanish in Cordoba