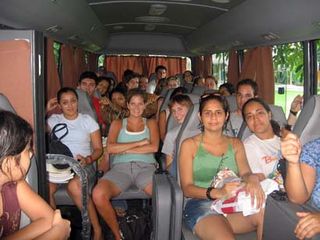 By Liz L., guest blogger studying Spanish in Honduras
So far I´ve written a lot about my side trips, but I haven´t written much about the school itself. Having finished two weeks and started my third week, I have to say I feel better. My teacher, Yessenia, is a lot of fun. We start class every morning at 8 AM. Most of our morning is taken up by grammar -although it doesn´t have to be grammar. I asked for a lot of grammar in my lessons because this is the area in which I need the most help.

At ten we take a short break and have a snack provided by the school. Sometimes we have fresh fruits whereas other times we have cookies or pancitos, small pieces of bread. There´s also always fresh coffee brewed up in the kitchen or water for anyone who wants it.
After our break, we return to class and we usually read. Sometimes we read fables and I work hard to understand the meaning in Spanish while other times we read the newsaper together and discuss current events. Yessenia is always very patient with me, even when my questions aren´t
the greatest. We spend a lot of time practicing conversation as well. I truly enjoy just sitting and talking. Even though I´ve only been here two and a half weeks, I feel like my Spanish has improved. I am certain that my vocablary has increased by leaps and bounds while my grammar has gotten better too. I still have trouble understanding more than one person at once and following television programs is
difficult, but I'm improving.
The owner of the school, Rafael, has been so helpful and so generous. At the end of the first week I mentioned I was bored after class and he offered to help me find a volunteer job to keep myself occupied. He´s definitely a good person to know here. Earlier today I asked him about the difference between my class and that of the other students – I wasn´t sure why their classes were longer and he explained it to me. Then he offered to lengthen my classes by one hour simply because he wants me to be happy and he knows how important it is to me to learn Spanish. ¡Que amable! How friendly!
I feel really lucky to have such a good group of teachers and friends here in La Ceiba. I´ve made more friends in just a few weeks than I normally would in a year. I´m working hard for this to be a great
learning experience for me, and the best thing is that everyone else is working just as hard for that same thing!
Hopefully, I can upload some pictures soon. I have some great ones from the trips I´ve taken and my new friends want to see them too. My friends joke that with my camera all pictures will look great, but I
think it´s the natural beauty of Ceiba – in Ceiba all pictures will look beautiful!
Until next time, hasta luego!
Liz
Discover more about learning Spanish in La Ceiba
Read all of Liz's blogs from La Ceiba