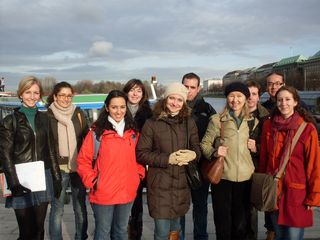 Last week, we highlighted the New York Times' "36 Hours in Oaxaca", and this week we can't help but mention another of these features, "36 Hours in Hamburg." Why? Because when most people think of German cities, they think of Munich and Berlin, and Hamburg may not always get a fair shake. But, as this feature proves, studying at one of Hamburg's German schools is an excellent choice. Hamburg is an incredibly rich and metropolitan city, dotted with excellent shopping, dining and culture, and is not without gorgeous scenery.
An enticing snippet of the article:
Did you know about the lake? It's smack dab in the city center and skirted by regal buildings, a postcard-ready tableau if there ever was one. And the canals? They lattice the part of the city nearest the Elbe River, allowing Hamburg to joust with Stockholm, Amsterdam and Bruges for informal rights to call itself the Venice of northern Europe.
Sign us up! See how you can study German in Germany