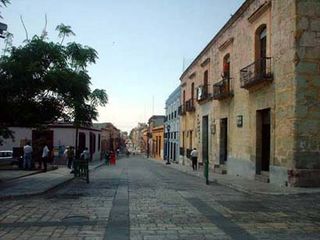 Learning Spanish in Oaxaca, Mexico may not be the first option that comes to mind when weighing out your language immersion options, but make no mistake – it's a great one! Oaxaca was highlighted in the NYT's article entitled "36 Hours: Oaxaca, Mexico" a few weeks ago. If you're not familiar with the "36 Hours" feature, it is a regular NYT Travel column wherein the author spends 36 hours touring a foreign town and journals his or her experiences. Here is an excerpt:
"Combined with the city's long-established studio art scene, a vibrant cafe culture, a mescal-fueled night life and one of Mexico's most exciting regional cuisines, Oaxaca is as cosmopolitan as it is architecturally stunning."
The author of the article had a fantastic time, seeing an alley full of different smoked meats for sale, a burgeoning street art scene, lots of colorful sights and cuisine, and more. The city is clearly an incredible backdrop for language immersion!
See more about learning Spanish in Mexico