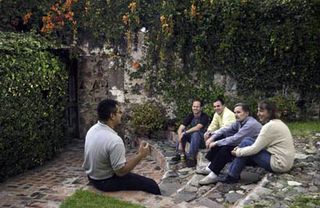 We've been featuring news articles, most recently from CNN's Conde Nast Traveler, that feature several AmeriSpan locations in various run-downs of the best places to go. Recently CNN released its "Top 5 Cities in Mexico" list, where three cities home to AmeriSpan's Mexico Spanish schools are located.
The number one city on the list? San Miguel de Allende, a romantic colonial city located in the far east of Guanajuato and close to Mexico City. San Miguel de Allende has a history of being a mecca for Mexican artists and art students, and has a wide variety of cultural attractions – its Sanctuary of Antotonilco and historic center have been recognized as world heritage sites and it boasts artsy cafes, galleries and museums.
CNN's Conde Nast Traveler rated this city highest in the areas of friendliness and ambiance.
Sound good to you? Find out more about AmeriSpan's San Miguel de Allende Spanish schools
See the full list: Top 5 Cities in Mexico