Mexico in autumn: Learning Spanish in an unique environment
Language stays abroad are career booster and adventure at the same time. But the most important factor is that experiences of this kind contribute to your personal development.
Do you dream of participating in a Spanish course and escaping from the typical autumn weather? Take now the opportunity and to find more details about Spanish language classes in Mexico.
Why Mexico?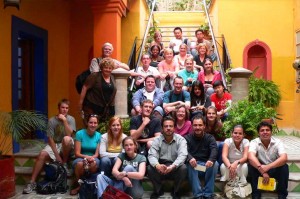 Mexico is no doubt one of the greatest destinations for language students not only from a cultural, but also from a climatic perspective, with moderate temperatures throughout the year. Thanks to its biosphere reserves and protected national parks, Mexico disposes of a variety of regional fauna and flora, which is just waiting to be discovered.
In countless Mexican cities you are still able to feel the mystical history and to follow the traces of ancient Maya and Aztec cultures. Mexico is where past meets present… dip into its cultural diversity and increase your linguistic knowledge during a language stay in the Mexican city of your choice.
Destinations and Spanish classes
Summer's almost gone and you are still looking for a Spanish course for autumn 2012? Look for detailed information concerning destinations in Mexico like Cuernavaca, Mexico City, Guanajuato, Playa del Carmen, Oaxaca, San Miguel or Puerto Vallarta…just to mention a few.
City flair or relaxing lifestyle on Mexican beaches…the choice is yours!
Amerispan guarantees high quality Spanish classes in all partner schools all over Latin America and Spain, with teaching methods that enable you to amplify rapidly your language skills and to experience the regional variety of Mexico. By focusing not only on grammatical matters, but also on vocabulary of "real life situations" you will have the possibility to get to know very closely Mexican traditions, habits and most of all its open-hearted people. My experience tells me that Spanish courses abroad are absolutely necessary for everyone, who wants to learn pure and authentic Spanish, by speaking to natives and getting to know better the foreign culture.
Now it's up to you to choose the Spanish course that best fits you. Amerispan's schools in Mexico dispose of a great offer of language classes like short and long-term Immersion Spanish courses as well as classes for Business language and Culture. If you prefer to gain academic credits, you can also take part in Semester Programs, enjoying a longer stay in Mexico.
To enable you a pleasant stay in Mexico, Amerispan offers great accommodations with host families, which will also foster your oral language skills during the free time. In my opinion this is a unique possibility to study Spanish without much effort.
Are you curious? Don't hesitate to find out more about your Spanish course in Mexico this autumn!