The LTM Star Awards are an elegant awards ceremony for educational institutions offering students the opportunity to work or study overseas. Companies worldwide nominate one North American organization who represents all that is positive about study abroad schemes.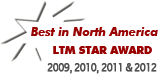 Amerispan Study Abroad has been voted Star Agency in North America four years consecutively.
Amerispan – "the bridge between cultures" was first established in 1993 by two friends who wanted to spread the word about affordable language institutes in Latin America. Amerispan began as a business plan dreamt up on a beach in a small town North of Rio and is now a successful business that offers courses in over 15 different languages in more than 45 countries!
This recognition pushes Amerispan towards our goal of bringing intercultural experiences to everyone.   
We want to thank all of those that support everyday Amerispan as well as those who have helped to make our dreams a reality: bringing cultures closer. Also, we must mention all the partners and schools involved in our project. Thank you very much.