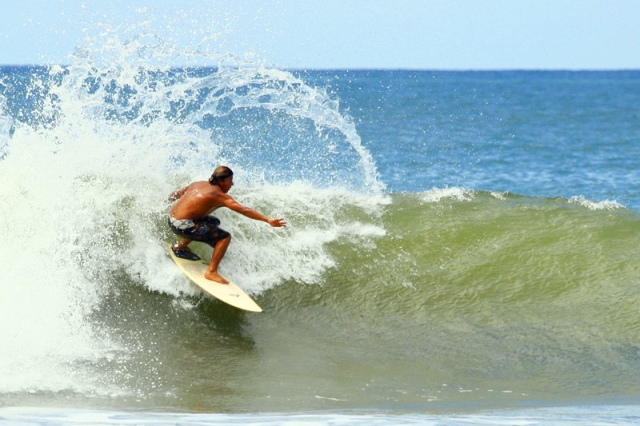 For those who want to learn Spanish in Mexico and at the same time do sports and relax, Playa del Carmen is the ideal place to go.
With its beautiful beaches and nature, this holiday destination is ideal for all who are looking to enjoy a healthy bit of relaxing during a Spanish course or a holiday abroad. But, the region offers even more; Playa del Carmen is one of those ideal scuba diving destinations. With diverse coral reefs and scuba starting points, the coast at Playa del Carmen is suitable for all levels of experience, from beginner to professional. The turquoise waters of the coast here are warm all the year long, offering a very clear view of the underwater habitat. The reefs are so close to the coast that there is no need to first embark on a lengthy boat journey to find diving spots. And even in the winter, the arrival of the bull shark to the coast affords the visitor that incredible experience of swimming amongst sharks…   striking distance!
Furthermore, unique to Mexico are those cenotes: naturally formed sinkholes where you can find a bizarre flora and fauna completely unknown to the rest of the world. For example, the Mexican Blind Brotula is a truly fascinating species of fish. Diving in these caves is a very special experience which, of course, attracts divers from all over the world. Some of the most popular cenotes are Dos Ojos, Chak Mool, Tajmahal, Gran Cenote and Calavera.
Another very popular sport is kite surfing. Hereby, the surfer is dragged by a kite whilst stunting and jumping on and over the waves. The professionals can fly up to 10 meters high in this manner! Kite surfing is a sport which has experienced a great surge in recent years. At Playa del Carmen the winds so lend themselves to the practice of the sport,  that the city was chosen for some events during the world championship of kite surf.
So if you want to make the most of your vacations, why not chose a Spanish immersion program in combination with a scuba diving or kite surfing course and thus take advantage of all the things Mexico can offer to its international visitors?
Learn Spanish and diving at the same time or take a Spanish course in the morning and get rid of all your excess energy in the afternoon kite surfing, and then relax afterwards with some friends at the beach! All of this and much more is made possible with one of our intensive Spanish courses in Mexico!