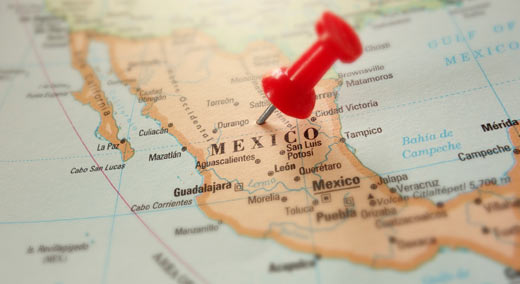 This is a virtually impossible question to answer due to personal preferences about city size, levels of population, location etc. However, if you know you are the type of person who enjoys a buzzing nightlife then Mexico City may be a good choice for you. Additionally, there are plenty of beautifully designed buildings such as the Blue House where Mexican Painter, Frida Kahlo, once worked and lived. Alternatively, if you love the beach, then Mexico's postcard worthy Playa del Carmen offers an idyllic setting complete with bright turquoise waters and glittering white sands. Once you've chosen a destination, the next thing to consider are the language schools themselves and the type of accommodation that suits you best. When selecting a language school, you may like to consider price, the types of activities offered by each individual institution and the variety of age-groups and nationalities of your future classmates. However, if you're still thinking about the destination, then read on to find out more about three of Mexico's most significant cities…
Guanajuato, the childhood home of Diego Rivera, is a charmingly unique colonial city, located in central Mexico. A mid-sized university town brimming with history and art, copious plazas filled with cafés and restaurants and narrow, pedestrianized streets lined with colorful houses – a perfect city for strolling. La Bohemia is a small restaurant in Jardín De La Unión, Guanajuato's main plaza. It is open seven days a week from eight in the morning till eleven at night. For fifty-five pesos (that's just over 3 euros) the restaurant offers a meal of the day which includes a bowl of homemade soup, a starter, freshly prepared rice and salad, a round piece of bread known as a bolillo and a refillable glass of agua fresca (a Mexican fruit drink). The restaurant owner has about 50 dishes that he rotates for the meal of the day. It appears that the prices at the restaurant are about the same, if not a bit lower, than other eateries in downtown Guanajuato.
Oaxaca is one of the best places in Mexico to enjoy cultural holidays. Around Day of the Dead (on the 1st and 2nd November) families descend upon the local cemeteries to clean the grave stones of their deceased ancestors and have a picnic in their honor. In the city center, street vendor's spring up selling marigolds and coxcombs (a velvety red flower typical of this season) and market stall owners attract customers with wonderful displays of candy skulls and special bread known as Pan de Muerto. The cuisine in Oaxaca is very rich and varied: from the chocolate-infused meat sauce known as mole to the crunchy fried grasshoppers not for the faint-hearted! As well as a selection of exotic dishes, Oaxaca is also famous for its alcoholic beverages: tequila always took center stage in the past; but over the years, it has risen considerably in price so its "brother drink" mescal has become the tipple of choice for all those who appreciate fine liquor.
Mexico City, the fifteenth most populous city in the world, might seem a bit daunting at first, but it doesn't have to be. The most popular tourist attractions are mainly concentrated in the heart of the historic city center, for example, the main plaza (known as the Zócalo), the Alameda Park and the Palace of Fine Arts. The Plaza Garibaldi, located a few meters away from the Palace is the best place in Mexico City to listen to live Mariachi musicians. The Rosa, Roma and San Angel zones, home to some lovely parks, shops and cafés are considered to be the "artsy" areas in town. The affluent neighborhood of Polanco is the place to be if you're looking for a good night out. Further south, the UNAM campus (Universidad Nacional Autónoma de México) is renowned for its famous work created by some of Mexico's most well-known artists.