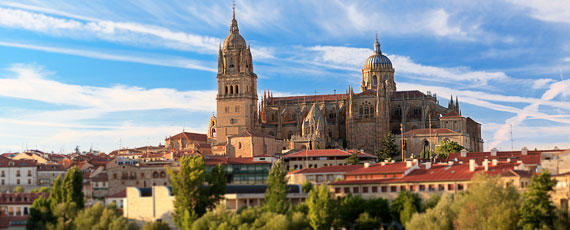 Salamanca is a city located in northwestern Spain, in the autonomous community of Castile and León. It is famous for its university, which is the oldest and most important in Spain, and the fourth oldest in the Western world. The historical center of Salamanca was named a UNESCO World Heritage Site in 1988.
History
Its impressive array of Romanesque, Gothic, Moorish, Renaissance and Baroque architecture gives evidence of the city's historical past. It was occupied by the Carthaginians in the 3rd century B.C before becoming a Roman settlement. After the fall of the Roman Empire, the area was invaded by the Alans, and later the Visitgoths. As with much of the rest of Spain, Salamanca was taken over the Moors in 712 AD, and remained this way until the 11th Century. The university was granted a royal charter in 1218 by King Alfonso IX, and since then has become one of the most prestigious and popular universities in Europe. Originally, most of the classes were taught in churches and other buildings, until the majority of the university was built in the 15th and 16th centuries.
Student life
University
Salamanca is one of the top universities in Spain. As it is such a famous university, as well as attracting Spaniards, Salamanca draws international students from all over the world, as a popular Erasmus destination. It was also the first university to offer Spanish courses, so it now has the most prestigious language courses on offer, which attracts a great number of foreign students. Salamanca has over 30,000 students.
This gives the city an international and vibrant feel. It is quite a small city, with a small town feel, so it is easy to get to grips with the city straight away. It is possible to walk pretty much everywhere, which is an enjoyable experience in itself, as the city is extremely pretty with all its cobbled streets and beautiful buildings; there's always something new to see. The biggest bonus of Salamanca is that it's cheap, which is ideal for students; not only for accommodation, but for nights out as well! You could spend just 150 euros a month on renting a room in a shared flat!
Nights out
Salamanca is a great night out for students. You can expect to be surrounded by other students, and to have a good time without spending a fortune. It has a lot of bars that you can go to first, to enjoy a few drinks and some tapas; "ir de pinchos" as it's known here. The best places for this are around Gran Via, or around Plaza Mayor, which would be a bit more expensive. Plaza Mayor is a common meeting place for students, located in the center of the town, with a good atmosphere. Calle Van Dyck in the north of the city also offers tapas bars, with very good prices and good sized pinchos!
If you're looking for a night out clubbing, Salamanca can also give you what you're after. Going out is possible every night of the week, although the students normally go out Thursday- Saturday. Nightclubs don't get started until about 1am and can go on well into the early hours, which takes a bit of getting used to! There are many clubs you can choose from depending on the sort of music you're looking for. The majority of the nightclubs are in the old town, and music can be divided between these zones.
You can find live music haunts around the Bordadores disctrict, often with medieval style décor. The area around Gran Via is full of places popular among foreign students with a range of bars and nightclubs of different music styles. More alternative music can be found around Plaza de San Justo. Most places offer some sort of special offer, such as a free second drink, but there are some other places you can look out for it you're on a tight budget like most students. Liter bars are popular, and you pay a lot less than you would if you were in a club; around €3.50 for a liter of beer! There is also a bar dedicated solely to the one and only Michael Jackson, called "Jacko's", which has reasonably cheap prices too! Other popular places among foreign students involve "The Irish Rover" (a nightclub), and the "Chupitería" (a shot bar!).