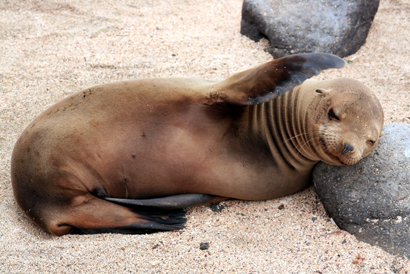 AmeriSpan offers a variety of programs in three Ecuador Spanish schools. Ecuador is an excellent location to study abroad due to its incredibly diverse climate, friendly people, as well as many important sites of interest. Situated on the Equator in northwestern South America, Ecuador is bordered by Colombia and Peru, and also lays claim to the Galapagos Islands. Need another reason to study Spanish in Ecuador? Well, AmeriSpan is offering a special in Quito through the end of April: A free week of classes (valued at $165)!
Location: Quito is located in a high valley (9,000 feet above sea level) surrounded by the snow-capped Andes. While quite a large city, Quito has retained much of its colonial charm and is friendly to travelers. Quito is centrally located, making it an ideal base from which to explore the rest of Ecuador. 
School: A large, bright, modern building, our Spanish school in Quito has many amenities such as: a large terrace with an amazing view of Quito and the surrounding mountains, a patio, indoor basketball court, business center, cafeteria and much more. 
Lodging: Students live in homestays with local families, and enjoy a private room with laundry service and two meals daily. 
Courses Offered: Group or private Spanish classes, Activa Spanish Program, SALUD Medical Spanish, Volunteer placements, Junior Immersion
Staff Comments: A family-owned school, AmeriSpan has been sending students of all ages for over 15 years. The staff is friendly and professionals.  The methodology was completely upgraded around 10 years ago and continually upgraded.
Special: Free week of group classes or $165 off when you register during April 2010 for Quito language, SALUD, Part-time Volunteer, Full-time Volunteer or Fun program and take at least 2 weeks or longer of group classes and complete your program in 2010. You must register by April 30, 2010 and use discount code "Quito April Special" when registering to receive the discount. More information about the Quito Special



Cuenca Spanish School
Location: Due to a lack of English-speaking tourists, Cuenca offers the Spanish language traveler and excellent opportunity for immersion in Spanish and Ecuadorian culture. Cuenca maintains a beautiful balance between old and new: Cobblestone streets, ruins, and Indian markets on one side of the Tomebamba River, and art galleries, two universities, and modern buildings on the other side. 
School: Our Spanish school in Cuenca is warm and colorful, located in an old stone building in the colonial section of the city. A cafe is conveniently located inside the building.
Lodging: Lodging for students is in homestays, which includes a private room, laundry service, and three meals daily.
Courses Offered: Group or private Spanish classes, Spanish and Art & Crafts, SALUD Medical Spanish, Volunteer placements.
Staff Comments: Ahh Cuenca, we love it. Like the rest of Ecuador the people are some of the friendliest we have encountered in Latin America. But there is something special about this little city that several of us see
this article or this one



Montanita Spanish School
Location: Surfers, divers, and beach bums alike delight in Montanita, a delightful beachside town. A relaxing atmosphere creates a great learning environment for practicing Spanish with local Ecuadorians.
School: Situated on the main beach, our Spanish school in Montanita is a short walk from the center of town. Students can enjoy swimming in the pool, hanging out on the terrace, and the convenience of both a cafeteria and indoor and outdoor classrooms. 
Lodging: A variety of lodging options are available in Montanita: You may elect to live with a host family in a homestay, in a cabana, or a mini-dorm. 
Courses Offered: Group or private Spanish classes, Spanish & Surfing
Staff Comments: Nice beach and a relaxed atmosphere. This is a newer program and still a bit undiscovered,
Conclusion: If you have the time we recommend spending some time in quito and then selecting cuenca or Montanita to finish things up.
Go to Ecuador
Spanish schools to see all three schools.