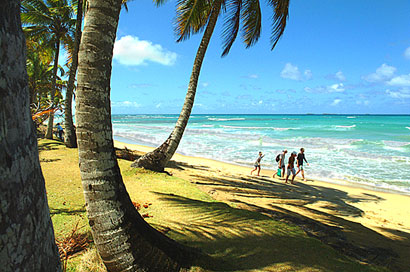 Anyone who has ever been to the Dominican Republic can tell you that it is colorful, gorgeous, and remarkably unique. Located on the island of Hispanola between the equally beautiful islands of Cuba and Puerto Rico, 'la Republica Dominicana' has a boatload to offer the Spanish student looking for some rest and relaxation in paradise. That's why we're so excited to announce that, for a limited time, if you register by April 30th to study in the Dominican Republic for two weeks or more, you will receive a week of classes AND lodging for FREE! Find details on our Specials Page.
Our Dominican Republic Spanish Schools are located on opposite shores of the island, in Sosua and in the capital of Santo Domingo, and they are both wildly popular. Some students choose to split their program between both schools, which is a wise choice!


Sosua
Sosua's main attractions are its beach and its town center. Our school is within walking distance of the beach and is very close to downtown Sosua. You can enjoy outdoor classrooms, the sparkling ocean and sand, terrific weather year-round, and small, intimate classrooms. And, for our water sport enthusiasts, we offer a Spanish and windsurfing program.
See: Sosua Spanish School
See: Spanish and Windsurfing
Santo Domingo
The capital of the Dominican Republic, Santo Domingo is a bustling and culturally saturated city. It's one of the oldest European settlements and is seated beside the Carribbean. There are tons of activities for everyone – swimming, diving, boating, surfing, visiting museums, shopping, etc. Our school is close to the university part of the city and just a short distance from the beach. We also have a great Spanish and Latin Dance program!
See: Santo Domingo Spanish School
See: Spanish and Latin Dance
See: Dominican Republic Spanish Schools
See: AmeriSpan Specials
See: Airfare to the Dominican Republic