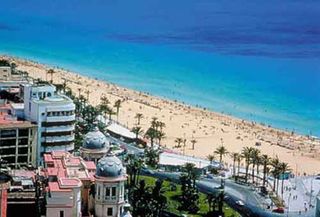 Don't forget- our 'Spain Fever' special runs until May 31st!  Participants have until that date to register for Spanish language programs in Alicante, Barcelona, Granada, Madrid,
Marbella, Salamanca, Sevilla, Tenerife and Valencia!  Throughout the duration of 'Spain Fever', we've highlighted some of these locations.  Today we want to tell you why we love the city of Alicante!
The AmeriSpan staff tends to be a little bit partial towards both our beach locations and the country of Spain in general, and Alicante is one place out of a handful that we offer that fall into both of these categories.  Summertime on the coast of the Mediterranean is second to none, and can be the most fun time of the year to practice Spanish with locals!
Aside from the gorgeous sandy beach, clear water, and terrific weather, Alicante boasts a lively downtown, plenty of attractions, unbeatable views, and the notorious tree-lined Esplanada.  Culture buffs can take in the nearby Roman ruins and frequent city-wide festivals.  One notable festival, called the Festival de Verano de Alicante (Alicante Summer Festival) even lasts July through August!
Now is a perfect time to plan your Spanish in Spain language program for this year, so make sure to register by next Monday!
For details about our 'Spain Fever' special ending on May 31st, visit AmeriSpan's Specials and Discounts
For details about AmeriSpan's Alicante Spanish school, visit AmeriSpan Spanish School in Alicante