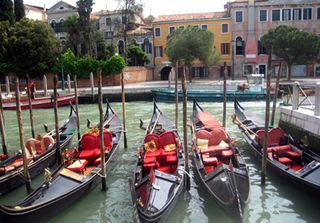 1. It FLOATS!
You probably know that the watery streets of Venezia are gondola-accessible, but did you know that it is built on 117 small islands?  While visiting the city, you will have plenty of opportunities to take gondola rides and tours.  But be careful!  Venice's many twists and turns can result in getting lost fairly easily!  Many newcomers like to stay close by to the city's main thoroughfare, the Grand Canal.
2. The Carnival of Venice
The Carnival of Venice is a festival that began in the Renaissance period as a way for classes to "mask" their differences and celebrate as one.  Elaborately decorative masks to this day are worn and displayed in shops throughout town.  The annual Carnevale di Venezia begins two weeks before Ash Wednesday and ends the day before.
3. Its Medieval and Renaissance History
Venice is a cultural hub with an artistic and theatrical background (Shakespeare's Merchant of Venice and Othello, anyone?) that can rival almost any other ancient European town's.  During the Medieval and Renaissance periods, Venice was a rich and booming commercial center (and remains to be), importing valuable commodities like spices and silk.  Its place in art history can be evidenced by hundreds of pieces of art, theatre, music, and literature that have withstood the test of time, as well as its many architectural landmarks, including the Palladian Villas of the Veneto, Doge's Palace, Campo San Polo, and more.
For more information about studying Italian in Venice, see