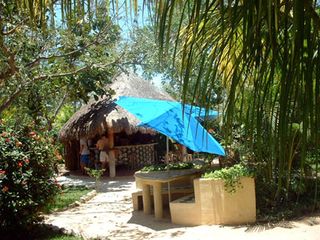 By Alisa W., guest blogger studying Spanish in Playa del Carmen, Mexico
After spending four days here in Playa, I have become comfortable in mi casa, and in the town.  I have met many, many people from many different places including Japan, Canada, Holland, Germany, Brazil, and even Australia.  Last night mi y mi amigos attended the Cafe Social that the school puts on each Wednesday night.  It was hosted by La Azotea on 5th avenue and was on the rooftop.  It was a beautiful view, and allowed everyone a chance to relax and have fun together outside of school.  I am still working hard on my spanish, and I am learning a lot each day.  However, it does require a lot of patience. 

Some of my new friends and I have tried out some of the different restaurants around, and they are (for the most part) very inexpensive, and delicious.  Mexicanas are very helpful, and friendly.  I couldn't find my way somewhere and one local stopped what he was doing to show me where to go, even going so far as to walk me to the location I was trying to reach.  The beach is very beautiful, and I have been spending the afternoon there when there are no activities planned.  Sunscreen is essential! 
This weekend the school has arranged a trip to Chichen Itza, which is one of the seven wonders of the world.  It is an all day event and there is a tour of the ruins.  Hopefully, it will provide many good pictures!  The school is quite nice, and each morning I enjoy a nice walk to school with the other students living in my household.  I do enjoy this walk right now, but I may change my mind before this trip is over with!  If I do, I can also take a taxi to school for about 15 pesos ($1.50 US)  so I definitely won't break the bank if I decide to change my method of transportation.  Our classes are outside in small rooms that are covered.  There is a couple of fans in each room, and although it doesn't compare to the air conditioned everything of America, they are definitely bearable, and I find that all but a few of us have begun to acclimate to the heat in Playa del Carmen.
Find out more about AmeriSpan's Spanish school in Playa del Carmen
See all Mexico Spanish schools
Read all of Alisa's blogs from Playa del Carmen