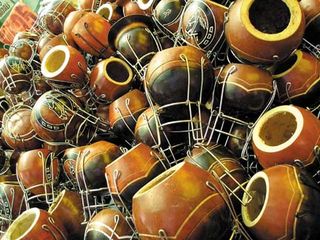 By Angela B., AmeriSpan Delegate, studying Spanish in Uruguay
Ok, so we went to Buenos Aires….excelente!!!!  It was me, another kid from the states and 2 Brazilians.   This city is absolutely amazing!! We had soooo much fun and we stayed in a hostel downtown.  We hung out with people from literally all over the world…Italy, Spain and Chile, Argentina.  We walked all over the city and went to some great bars and restaurants.  This city has so much to offer, it's very historical and if you ike to party: everybody stays  out until all hours of the night, in other workds…the city never sleeps!!  We went to this great barrio called "la boca" it is so cool, it's known for the Tango.  It's super colorful, artsy and musical. I definitely recommend going to Argentina!

My last week in Montevideo, went so fast!  For my last week, I spent time hanging out with all of the nice people that I met, while I was there.  We went to couchsurfing meetings every Thursday and got a chance to really meet some cool people from all over, Uruguay, Chile, Brazil, USA, canada, Europe…it's a great way to network.  I also ate alot of food.  The everyday food in Uruguay is OK, nothing spectacular, a lot of meat, potatoes, veggies, but they have this sandwich called a Chivito.  It's huge!!  it's a piece of steak, cut thin and grilled, ham, cheese, egg, lettuce, tomato, and all "gustos" you can handle.  AMAZING!! We went to the place called chivitos, Marcos..I guess they are like famous or something, needless to say, they were muuuuy rico!!!!  Uruguay is also known for these to die for little sweets called bizcocho, they are DELICIOUS!!!! It's a little pastry filled with just about anything but the ones filled  with chocolate or dulce de leche are sooooo yummy!!! I ate enough for a whole lifetime my last week, because I knew I wouldn't have another one for a long time!!!  I definitely recomend those foods, they are incredible!!
 It was sad to leave everyone at the school, my new friends and my family, they were all so great, but now I just have another place to visit for vacation!  And I recommend everyone check it out too!!!
 Thank you AMERISPAN!!!!
Click for more information on AmeriSpan's Spanish school in Uruguay.
Click for more information on how to become an AmeriSpan Delegate.
Read all of Angela's blogs from Uruguay.