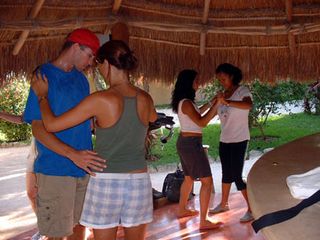 By Alisa W., guest blogger studying Spanish in Playa del Carmen, Mexico 
 Beginning my second week in Playa del Carmen – I am excited to continue with my Spanish lessons!  We get a new teacher each week, and my new teacher pushes us really hard to speak only in spanish which makes a big difference.

Today, I attended the cooking class that the school offers once per week.  We made guacamole.  Guacamole is a popular dip in Texas, and I already knew how to make it Texas-style, but it was still interesting to see it made in another country.  They actually made it a little differently, adding more onions and a few less ingredients than we typically add at home. 
I also attended a Salsa lesson that the school offers and, although it was fun to learn, I remember why I never really took up dancing!  I spend at least a few afternoons each week on the beach,  I think I am even considered a regular at one of the beach side bars that offers cheap beach beds and cervezas. 
Each week the school holds a 'futball' match down on the beach where the teachers play against the students.  It is a fun experience whether you go to play or to watch.  Today, my housemate from Germany showed me how to ride waves in the ocean up to the beach.  It probably looked silly, but it was a lot of fun!  Things are going well, and each week brings new people from different places which allows me to experience many different cultures in one place.  So really, with a trip to one country, I am getting to experience a little of many!
Find out more about AmeriSpan's Spanish school in Playa del Carmen
See all Mexico Spanish schools
Read all of Alisa's blogs from Playa del Carmen