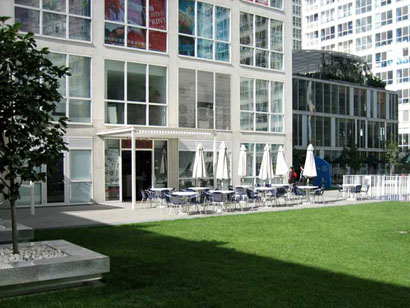 Julia Zhou is founder & director of AmeriSpan's partner school in Beijing, China.  She shares her own story about her background and how she started her language program.

What is your background?
I grew up in modest surroundings.  We lived on a nice street lined with big trees, in the British and French colony district of Tianjin, a big industrial city in northern China. My parents worked for the science academy of Chinese military. We had a standard lifestyle for that period, comparable to other Chinese families. My parents presented an open minded and democratic family atmosphere.
In 1999, I moved to Beijing with my family looking for better opportunity in the capital city of China. Luckily, I discovered Beijing is full of opportunities for people who want do something in their life.
Do you travel abroad often? Have you studied abroad?
Yes, I enjoy traveling but haven't had as much time since starting my language school. I studied in Germany and have traveled throughout Europe. In addition, I also speak English and most of my work is in English.
What is your professional history?
My major was marketing; there were more opportunities for college students at that time compared to now. My first job was at an import/export company and then I worked at a German joint venture company. After moving to Beijing, I worked for the marketing department at an advertising company until starting my language school.
How did you get involved with Study Abroad?
I enjoyed my other jobs, learned how to work together with other people and made some friends, but I realized my stronger wish was to be an entrepreneur. I wanted to create my own organization where I could influence other people. I had always loved traveling and learning foreign languages and knew there was a big demand to learn Chinese; so starting a language school was a logical next step in business for me. It allowed me to do something I loved while sharing my country and culture with people from all over the world. I established the school in 2005. Our target students are people of all ages from other countries who are interested in learning Chinese language and culture. We are happy to be their first stop when they come to explore, live and/or work in China.

Did anyone or any organization help you get started?
Yes, my older brother supported me with initial funding, designing our logo and company name.
 
Have you been successful?
We experienced strong growth from 2006-2008, and continue to achieve stable growth. One of the most rewarding aspects is returning students. Many students return each year and they tell us that our staff, teachers and homestays are part of their extended family. Our success is a result of having the most experienced and loyal teachers/staff. Finally, we always address the individual needs of every student.
Check out AmeriSpan's Chinese School in Beijing