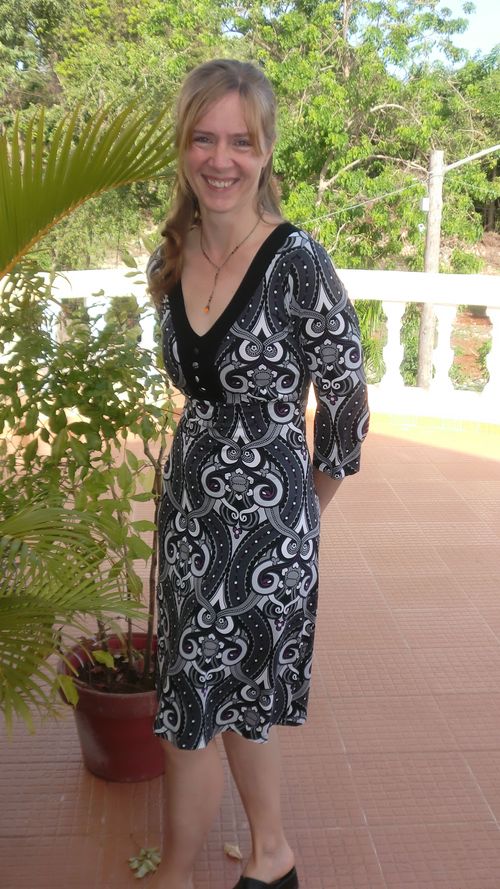 Meet Tanja Hölzer, Director of AmeriSpan's partner school in Sosua, Dominican Republic!
What is your background?
I am a public relations consultant and worked in education as a Divisions Manager for Marketing and PR business trainings in Germany.
I am 41, originally from Germany where I have studied history, politics and languages and became later on a public relations consultant.
I have now been living in Sosua in the Dominican Republic for almost seven years. When I came here the first time, I went on holidays to learn scuba diving. Which I did – and I met my husband, who was my scuba diving instructor. He is from Luxembourg. Funny coincidences of life: In Europe we only lived 250 kilometers apart, but we both traveled 7,000 kilometers to actually meet here in the Caribbean.
Do you travel abroad often?
Whenever possible because I love to visit new places, meet people and different cultures.
Have you studied abroad?
Before entering university I was living in Canada for a year, which was a great experience.


Which languages do you speak or have studied?
I have studied German Linguistics and American Literature and I speak German, English, Spanish and basic French.

How and why did you get into the Study Abroad market?
Actually, I was just looking for a language school, as I did not speak a word of Spanish when I moved to the Dominican Republic. So my first intention was, of course, to learn the language. That's how I got to know about the Sosua school.  I met the people here, loved the atmosphere and was offered a job with the school. It turned out to become my dream job and still is.
When did you join your organization?
I started working with the school in 2004.
What is your job or function at the organization?
I am the Managing Director of the Institute.
What do you enjoy the most about your job?
To connect people; people from around the world and of all kinds of backgrounds and ages who have one thing in common: They are curious about learning Spanish and meeting the people and culture of the Dominican Republic.
The second most enjoyable aspect of my job is the location of the school: within a beautiful tropical garden and just a stone's throw away from the beach. It's not only a great place to learn Spanish; it's also a beautiful place to work at.
How did you and AmeriSpan begin working together?
Our collaboration with AmeriSpan started in 2006 and we rapidly developed a very close, professional and personal working relationship. It was great to know AmeriSpan when they visited us in the Dominican Republic. To put a face onto our collaboration intensified our relationship even further. The staff is always very helpful, information is thorough, sent quickly and highly supports us in satisfying our customers. This makes working with AmeriSpan an enjoyable experience on a highly professional level.
Can you tell us about your schools philosophy, specialty and/or why you think it is special?
People learn best through all senses and when they enjoy what they are doing. So, inside and outside the classroom, we encourage our students to discover Dominican culture and hospitality first hand to make their IIC Spanish program a full-immersion learning experience:
-All our teachers are native speakers, highly qualified and experienced in teaching languages.
-Students can choose to study at both IIC schools, located in two very different settings, in just one program and learn about the country's fascinating contrasts.
-Our student facilitators organize every week several social events and excursions into the countryside. 
-The familial, personal atmosphere at both IIC schools creates thanks to our staff, the cafeterias, gardens and terraces the ideal setting to easily meet new people, learn & practice Spanish in a friendly and relaxed Caribbean-style environment.
Anything else you'd like to add?
Enjoy what you are doing and discover a New World with an open mind & heart
Check out AmeriSpan's Spanish School in Sosua