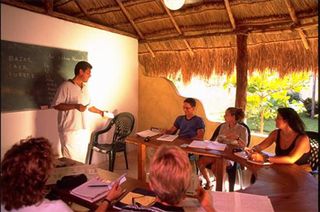 By Alisa W., guest blogger studying Spanish in Playa del Carmen, Mexico
I have been in Playa del Carmen for exactly one week now.  The week has flown by, and I'm amazed by how quickly I became comfortable here in Mexico.  Yesterday, I took a tour with some of my new friends to Chichen Itza.  Chichen Itza is about two hours from Playa del Carmen, and is one of the new 7 wonders of the world.  It was interesting to see the cenote, which is where the Mayans sacrificed people to the gods.  A cenote is a naturally occurring sinkhole that occurs in porous rocks.  The riviera maya is primarily made up of limestone, which is very porous.  Due to this, cenotes are very common. 

After the tour of the ruins we had time to shop from the many vendors around the ruins.  I think one of the best things about shopping in Mexico is bargaining.  One of my friends bargained on an item that the vendor asked 300 pesos (about 30 american dollars), and ended up purchasing it for 10 pesos (about 1 us dollar.  Later in the day the tour took us to a different cenote (one where human sacrifices did not occur) so that we could go swimming.  It was very refreshing after the long, hot day of walking. 
That evening, we all decided to meet up and check out the Saturday night life.  5th avenue (the tourist street) was PACKED with tourists and even some locals checking out the different bars and clubs.  We ended up at the blue parrot club which has two different dance floors.  Overall, we enjoyed the evening. 
From the beginning of the week to the end of the week my spanish has improved ten fold.  On Sunday evening I couldn't understand anything that my mexican mother said, but now I can understand a lot of what she says and usually stutter out some kind of response.  Staying with a family has, so far, been a tremendous experience, and I think has been key in the progression of my spanish.  Today, I have relaxed and done some studying.  I have also done some shopping on fifth avenue for gifts for my family back home in Texas.  I have three more weeks here, and I am excited to see what they have in store for me.
Find out more about AmeriSpan's Spanish school in Playa del Carmen
See all Mexico Spanish schools
Read all of Alisa's blogs from Playa del Carmen