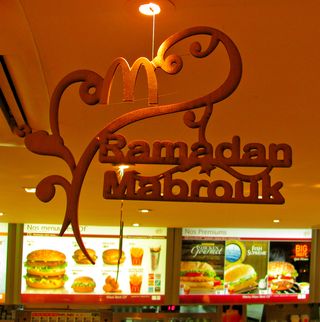 By Niki, AmeriSpan Study Abroad Consultant
Ramadan, the 9th month of the Muslim calendar, is celebrated by roughly 98% of Moroccans.  Every Muslim is expected to fast, which means abstaining from food, drink and some other activities during the daylight hours. Ramadan dates change every year since the Islamic calendar is based on the lunar cycle. This fasting, known as "sawm," makes traveling and/or studying abroad in Morocco during August to September a bit difficult for non-Muslims visiting the Arab nation. However, after visiting I believe the pros certainly outweigh the cons. 

Upon arrival to Casablanca's Mohammed V International airport, after a 7 or so hour flight from JFK, I was hungry and thirsty, but because it was 9 AM during Ramadan, I felt too uncomfortable to even attempt to drink out of my water bottle or eat the snack bar in my bag. Travel sites advised to keep public consumption to a minimum during Ramadan to avoid scornful stares.
My friend, an American citizen with family in Rabat, Morocco's capital, told me to eat it when we got into their car. With her uncle driving, I still felt like it would be disrespectful, but he assured me it was OK. "You are not Muslim, you are a guest here, please have some water," he said.
I noticed pretty quickly how desolate the streets were and that nearly all the shops and stores were closed. This is typical during Ramadan. Everyone essentially stays inside during the day.  Those that have to work seem sluggish and tired, having not eaten since before sunrise. Of course, the first week is said to be the toughest, and as the weeks go on, those celebrating say they get used to the feeling. Businesses and government offices close early, and even some tourist sites shut down earlier than expected.

This was the sun setting at the Hassan Tower Mausoleum.
On the side of the Hassan Tower is the mausoleum where King Mohamed V lies. It is in the same place where the late Mohamed V, returning from exile, gathered thousands of Moroccans to thank God for giving independence to his country. Normally guards remain on duty until 5 P.M. but they began leaving closer to 4 P.M.   You'll see a huge rush of activity from about 4:30pm and on as people flood to buy last minute items to break the fast; grocery stores become packed.
Sweets and pastries are very popular during Ramadan. It was on a trip to a local pastry shop that it dawned on me how similar this feeling was to being in the States during the Christmas holiday season.  After breaking fast with a Moroccan family, you will surely enjoy their famous Moroccan tea with some sort of sweet treat. Everyone also wildly shops the last week of Ramadan for presents for family, as they exchange gifts at the end of the holiday, another element comparable to the Christmas season.
Chebekia – My Favorite Traditional Moroccan Pastry During Ramadan.
 
Moroccan family shopping at the "souk" in Rabat (open market.)
 I must say, AmeriSpan's partner school in Rabat is fantastic. Great atmosphere, excellent teachers and they organize many activities and excursions. During Ramadan, the schedule changes, but they still accommodate students with traditional things to do to experience the holiday.
Buses and trains run according to schedule. Half way through a bus ride to Marrakech from Rabat (about a 4-hour ride) we pulled over on the highway. I curiously peeked out of the window to find the bus driver praying on the side of the road. Muslims pray 5 times daily, more attentively during Ramadan.

Sun setting over the Marrakech Train Station.
I'd be lying if I said I wasn't extremely hungry and thirsty at certain parts of the trip. I searched for a shop to buy water before getting on one very long train ride from Agadir to Rabat, and there were none in sight. It was certainly a time for reflection on my part, as I felt what the rest of the country was probably feeling in the hot summer's heat.  
Many tourists will notice that tempers flare during Ramadan. I saw this more than once. It's common to share taxis with other riders in Morocco, and when a woman thought my taxi driver was refusing her a ride, he shouted harsh obscenities to her, ones that made my Moroccan friend blush and become startled. I asked her what happened and her response was, "Everyone's hungry and the men can't smoke. This makes a lot of people cranky during Ramadan."
If you like to drink alcohol, you better stick to your tourist driven cities. Some bars and clubs may remain open, but not all, even in beach towns like Agadir. In a city that welcomes European tourists and boasts an active nightlife, only 2 bars and nightclubs could be found open during Ramadan. Many close for the entire month.  This doesn't mean that the fun has to stop. In fact, it felt like every evening was a party on the streets. After breaking fast and relaxing with family, locals come out to stroll and enjoy the night air.
Enjoying snails at the Jamaa el Fna in Marrkech. This place is always alive in the evenings, year-round.
One particular special day I experienced was on the 27th days of Ramadan. Its significance in Islam lies in the fact that the Qur'an was revealed from the Lord Allah, to His Messenger and servant Prophet Mohammed (Peace be Upon Him). On the 27th day of Ramadan in cities like Rabat, Sale and Fez, there is a tradition where children dress up in fancy dresses and tiaras with their henna, hair and makeup done, and get professional photos taken in the streets.  This night the children are allowed to come out and play until late, throwing frisbees and running around the parks.
While eating at a street side café in Marrakech just after sunset, I noticed a homeless woman looking at our food. The restaurant's owner welcomed her to have a seat and poured her a bowl of Harira (the traditional soup eaten during Ramadan.) Muslims are expected to give alms and charity (Zakat) to the poor since after all, this is the meaning of Ramadan. By feeling the hunger pains throughout the day, one feels sympathy for those who do not have food, and feels gratitude and openness to be able to share with those less fortunate.
Every day, when the sun sets, a bell tolls throughout the towns indicating that it's time to break the fast. It was almost an indescribable feeling that came over me at this moment each day. Knowing that the entire country was eating together at this moment was extremely peaceful; it creates an overwhelming sense of togetherness as a community and a country, an almost serene feeling as if millions of families were blissful at this exact moment. It was like a months worth of our U.S. Thanksgiving dinners, where every day is a holiday and time to be thankful for  your blessings. 
Overall, I learned that Ramadan is more than just not eating and drinking. It's about self-sacrifice and refocusing attention on God. It's about gratitude for the health and good fortunes one has for the remainder of the year. It seems to keep people humble and appreciative. I would advise any AmeriSpan student, Muslim or otherwise, to visit Morocco during Ramadan. At least plan part of your trip around this important holiday. Since the purpose of immersion programs is to experience the life of the locals firsthand, what better time to see a country than during one of their most important and fascinating times of the year. 
"Thank you and goodbye!"