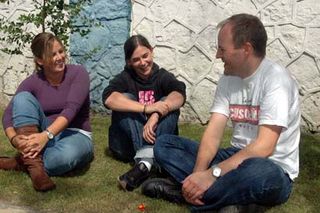 By Jonathon L., guest blogger studying Spanish and skiing in Santiago, Chile
Rather than sleeping in and relaxing or hitting the mountains to go snowboarding, I joined a group of other students from our school and hopped in a Van to explore two coastal cities, Vina del Mar and Valparaíso.  So a mix of Rowdy Brazilians, culture-shocked gringos and one Australian, adventured through the weekend, exploring museums, beaches, hostels, restaurants, cityscapes, pubs and discotheques.

We left bright and early, at around 3:30 pm, and stopped along the way to take photos of vineyards and sanctuaries (fancy churches) and then after about 80 km (and 2 hours) we arrived at our hostel where we dropped off our things, and readied ourselves for the night (dinner, pub and dancing).
We may have gotten a little lost as we drove through the twisting streets and hills of Valparaíso.  But we got to see a little of the area and we stopped to take a cable car (sort of) up the hills of the town, where we finally (after what felt like a very hungry hour in the car) we arrived at a beautiful little restaurant that overlooked the city and the beach.
After dinner, which consisted of Pisco Sour, some amazing bread, delicious pasta, red wine, and great conversations in English and Spanish (and some in Portuguese) about our lives, dreams and stories, it was too early to go to the disco, so we went to a pub where we listened to the greatest music of the past 10 or 20 years and sipped on cervesas (for me and Tequila for some) and passed the time dancing-ish, while sitting in our booth talking of many great things that I cannot remember.  After an hour or so, we paid our bills and made our way to the disco, witch had a cover of 5,000 dollars (10 USD) for guys, but free for girls.  (However, the cover included a free drink, which meant a cup of pisco on the rocks…sort of like whiskey… and a small coke to mix yourself. I think it was about 4 shots worth, other gringos said 7, but I think they are not taking into consideration the ice, nor that the glass was tall but narrow.)
So we danced for a while, some of the normal American-ish songs (Black eyed peas and some rappy stuff) and also some Spanish music, and for a while Salsa-esque music.  So of course I fist pumped, jumped, sang and dance from 1 until about 4 in the morning when we made our way back to the hostel.
Some cultural differences:
- People are allowed to smoke in bars, so not only were my eyes watering through my glasses all night as I 2nd hand smoked for 3 hours, but the next day all of my sweaters and clothes, or course, smell of cigarettes,  (Smoking  cigarettes is much more culturally acceptable here, but I think I will leave that for the Chileans to enjoy)
- Toward the end of the night, and I don't know if this is normal or not, but from behind the bar, two girls got onto the bar (from behind it, as if they are employees) wearing just their underwear, sort of like a Vegas strip-tease.  So everyone sort of just stopped dancing and watched for a little while, and I was like "not trying to be rude, but I am more here to dance than oogle…" and that went on for about ten minutes, and then everything returned to normal dancing, and salsa-ing and such.  Shortly after this event, we grabbed our coats and headed home (I think most people just decided it was time to walk the cold, windy and hilly streets back to our hostel.) But overall, my first experiences "going out" in Chile were pretty freaking fun, very enjoyable, and despite the smoke and strippers, very comfortable!
The next day, we toured the area, beaches, schools, Naval Museums, a boat ride, and then had a cheap and easy dinner before some went out for round two of the discos.  I joined in with the calmer crowd as we bought two bottles of wine, and we sat for a few hours in the nearly freezing night, enjoying the garden of the hostel, watching the stars, enjoying wine, and having great conversations, in Spanish (with some translation to Portuguese) with some Brazilianos about Snowsports, Traveling, Adventuring, and whatever else came to mind!
Today, we woke up not too early (9:30ish) had a small breakfast in the Hostel, and then got back in the van to return to Santiago.  As I write this now, my American roommates are 1) Making a Quilt and 2) Baking a vegan-ish bread while the Chilean family is in between sitting on the couch in front of the Argentina-Chile basketball game that is on the Tele, or surfing the internet (Facebook, telenovelas, the usual fun sites).
Later on today, I will be heading to some museums in Santiago to enjoy some of the various attractions of this city and then return home for another amazing dinner with my familia Chilena.
Find out more about Spanish and Skiing in Santiago
See Spanish school in Santiago
Read all of Jonathon's blogs from Santiago