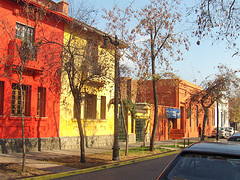 By Jonathon L., guest blogger studying Spanish and skiing in Santiago, Chile
Today was Day 2 of Spanish classes.  We talked about indigineous people, our zodiac signs, and when to use saber or concer.  Did I mention that this was all in spanish?
After class, we went to lunch in the central market, at Mariscaria, and I hung out with some Americans, and even better; some non-americans. (Mostly from Brazil!)  We had a variety of food, and I watched a girl from Texas freak out when her crab cake arrived, complete with crab legs.  But she stepped up to the challenge, and attempted to eat her first bowl of sea food!  Her friends at home will be so proud! I had the salmon.  (I did try some of her crab cake, and my neighbor's mussels (the fishy kind, not her biceps). Sorry Rabbi, and Dad!

After lunch, we left the central market to go to a mall (bad decision) and after that we walked our way to bellavista, which has some nice parks and touristy things to do.  More importantly, it had bars.  While I walked home before settling down for a crowded and exciting night on the town (the reasoning will be delivered shortly) I walked by street vendors and buskers, and I felt like I really got to see more of the city.  I also took the metro (subway) 3 times today!!! And for the second time, I surprised myself by finding my way home (my street is never labeled on a map, and I have only lived in my house for 2 days)
When I got home, I finally met the third student who lives with us.  Lauren is from California (near Long Beach), goes to UCSC and has finished her study abroad portion of her trip, and now has 2 months to explore, adventure and party (apparently there is a "fiesta" and a completely different word for the "more intense" kind of party).  Basically, I need to talk to her to learn how to "enjoy" the city, the way all good foreign exchange students do.  But that adventure will have to wait.
Because tomorrow, I have to wake up SUUUPER Early, go the 30 minutes to my school and get on a van which will take me to my first Chilean snowboarding experience!  El Colorado.
So much for keeping this short, its 8:30, and dinner hasn't started yet, (its a much later meal here, which is fine because I am still full from lunch) but I AM going to shower and get ready for life!
Find out more about Spanish and Skiing in Santiago
See Spanish school in Santiago
Read all of Jonathon's blogs from Santiago