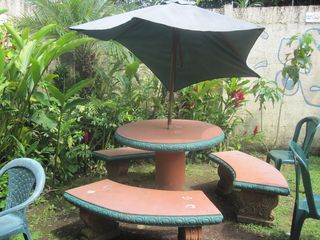 By Jennie M., guest blogger studying Spanish in Heredia, Costa Rica
On my first Monday, I arrived early for my placement exam at school.  I was both excited and nervous.  As a result, I found myself nearly speechless during my initial placement interview.  After a few moments of hesitation, I found my voice.  I was placed in Intermedio Nivel 4 (intermediate level 4). 

After the placement exam, I joined another new student for the orientation.  Mandy, a student services staff member, warmly welcomed us to the Heredia school and Costa Rica.  She explained the school policies and gave us helpful hints about living in the country.  I found out that I had class in the afternoon, so she gave me a morning tour of the escuela and Heredia.  Along with some of the places I had seen the previous day, we walked through the Mercado Central, which had many fruits and vegetables that I had never seen before (the food deserves its own blog entry). 
There were only three students in my class the first week.  In general, the greatest challenge for me is  the amount of conversation in the classes.  I am generally somewhat reserved in my day-to-day life, so I find it challenging to share more in Spanish. However, it helps so much.  Beginning on the first day, I found myself rapidly searching for vocabulary words I once knew.  Even though I generally understand the majority of what I hear, it sometimes takes me a minute to respond. I have moments where Spanish and English words mix in my mind and I can't think properly in either language. 
When you first walk into the school, you walk through a hallway and then come across the main reception area. In the past week, they have put up Christmas decorations. The school has plenty of tables and benches in the courtyard and patios, which are great places to take breaks from classes (see pictures).  I love how I can take a moment to sit outside before returning to the full immersion experience. There's a kitchen for the cooking classes, a room for dance classes, and plenty of classrooms for students of all languages. 
Amidst all the challenges, my first week went well.  I am sure that these next weeks will be full of learning experiences.  After this first week, I know it will all be worth it.
Learn more about studying Spanish in Costa Rica
Read all of Jennie's blogs from Heredia